Come on in, the water's fine
You never forget an experience like that. The memory has stayed with me. My eyes filled with tears as I listened to incredible testimonies of restoration from broken relationships, healing from physical and emotional pain, and a renewed hope for the future.
Men, women, children, teens, and even families, walked out on the stage and took the next step in publicly declaring their faith as Christ-followers as they were baptized one by one, in front of a full worship center.
Over the course of the weekend, over 100 were baptized! If you somehow missed seeing the joy on their faces, you couldn't miss seeing the tee-shirts they wore for this life-changing moment that simply stated, "I have decided."  It was like a continuously flowing banner that conveyed the message: Jesus is mine. I am His.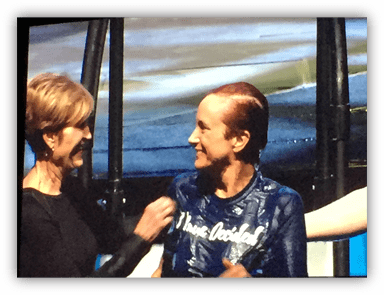 Another reason I'll never forget that experience is because of my friend, Jamie Vukelich. Jamie was in my 2007 After the Boxes Are Unpacked study. It was through the impact of hearing God's word every week in class, that Jamie began to have a personal relationship with Jesus. Her bubbly personality is as infectious as her love for Christ. Jamie has volunteered in our Just Moved office for years now. She has gone on many mission trips through our church. She loves to pour out to others what Jesus has poured in to her.
Several months ago, she gleefully bounced into my office – like she always does – and said, "I'm going to be baptized! Will you go with me in the baptismal pool?"  Oh. Wow. Oh. My. Goodness. Yes.
So last Saturday night, I had the privilege and honor of standing by Jamie's side, in the water, assisting our pastor in baptizing my delightful friend. I'll never, ever, forget her sparkling eyes and the big smile on her face as she came up from the water and embraced me with pure joy. I still get emotional, just thinking about what I call, "A Jesus moment."
As we celebrate the birth of our Savior, Jesus Christ, it might just be the right time for you to take the next step – walk into the arms of Jesus. To know Him, is to love Him. To follow Him is life changing.
And it just doesn't get much better than that….