Every month we bring you the personal and encouraging story of someone who has been uprooted by a move. This month's Mover's Story originally appear in an issue of Bloom. Check out past issues of Bloom and sign up for a free subscription.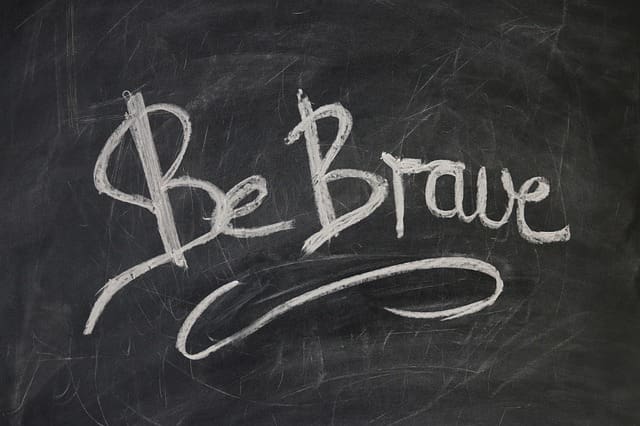 By Leah Lively
Apparently, bravery is not something we are born with. My son is brave enough to climb the ten-foot-tall tree in our front yard yet feigns illness when his music class performs on stage. I have no fear of speaking in front of a crowd of a hundred yet must summon courage to introduce myself to a new neighbor.
My bravery has certainly been tested, having to consciously choose courage over fear.
When a new job opportunity arose for my husband 16 hours away, rather than focusing on the fear of the unknown, we chose to focus on the excitement of moving to a new place, people, and experiences. We chose to be brave for our children so that they would also eagerly anticipate our move and not fear the future.
Within weeks after arriving, we quickly made new friends in our church and neighborhood. My pre-teen daughter immediately began attending a local church youth group. I brought my preschooler to church during the week for Bible study and a local mover's group. We all made a conscious effort to choose bravery over fear, even though it wasn't easy.
When circumstances beyond our control blindsided us, our bravery was challenged again.
After eight months in our new town, my husband's job was downsized. Thankfully a new job offer came, but we would have to leave this new place we loved and say farewell to friends we adored. The new job was in our home state, yet we were not ready to return. I had personally put so much emotional energy into making a new home in an unfamiliar place, that I wasn't ready to start all over again.
Although my home state is certainly familiar, I didn't have the courage nor the energy to meet new people; I had already done that several months ago. I didn't want to explore the area around me because knowing no one at church and local stores represented loneliness for me. Somehow, I had to find bravery to begin meeting people. I had to choose to surrender my fears and loneliness to God, so He could give me the courage I needed.
It wasn't until I surrendered those fears to God that He filled my heart with enough courage to start making friends again.
Precious relationships have developed in the least likely places. My neighbors have become an incredible friend base of different cultures, beliefs, and lifestyles from which to draw unbelievable encouragement and support. This fall, after summoning the courage to join a Bible study, I am now surrounded by women more than fifteen to forty years older than me. I am grateful for the examples of Biblical womanhood God has set before me. Unexpectedly, He placed me in a room filled with spiritual mothers who share wisdom and inspire me with their steadfast faith.
Throughout the Old and New testament, God commands us to "Have courage" and "Fear not." I have learned that to obey the command to have courage, I must give my fears to God and acknowledge my weakness. By choosing to acknowledge my weakness and surrender my fears, I made room for God to fill me with courage. Fear would have kept me at home in my loneliness. Choosing bravery through the courage God gave me has graciously gifted me with friends and experiences across many states.
Leah Lively is a blogger, wife, and mom to four emotionally charged kids. Her desire is to bring hope and encouragement, wherever life may find you today.