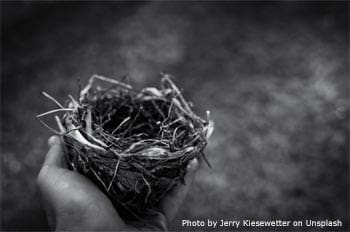 Learning to let go one more time
"It's my party and I'll cry if I want to
Cry if I want to, cry if I want to.
You would cry too if it happened to you."
(A popular song from the 60s by Lesley Gore)
You thought you were ready for this, but you never expected it to be so hard, or that you would cry so much.
You fought back the tears as you hugged tightly, secretly never wanting to let go, trying to be strong, even brave at this momentous moment. The words swelled up in your heart. There was so much you wanted to say,
"Don't forget to call or text me.
Get enough sleep.
Eat healthy.
Don't stay out too late.
Choose your friends wisely.
Remember to wash your clothes once a week.
And oh, please be careful-it's a crazy world out there."
But you didn't, at least right now you didn't. You've said it all a hundred times before this day.
You simply whispered, "I love you."
You were trying hard to act like a grown-up mom to this growing-up child, who was growing-up too fast, too soon. The voice in your head said, "Wasn't it just yesterday that I rocked you to sleep and held your hand as you took your first step? Now you are taking your first step into college." You hear this growing-up child that you cheered on in life, now trying to cheer you. "I'll be fine mom…don't worry…."
All the way home, you cry uncontrollably, mascara running down your face, snot pouring out your nose. This is not the time to hold back. Let it come. You reach for a sleeve, an arm, a Kleenex – anything to stop the dam that broke. You just left behind your baby – your firstborn, your middle child, or your youngest. It doesn't matter which one, it still hurts. It's cutting another umbilical cord, it's letting go of a part of who you are. It's facing an empty, clean room with the bed made, no shoes or clothes scattered everywhere, and posters still hanging on the wall. Oh, how you yearn to see that room messy just one more time to have glimpses of life there.
In case you are wondering, I was the "YOU" years ago when I experienced the emotional transition and unexpected adjustment of sending off our oldest, and then our youngest, to college. My head knew all the right things – we raised them for a time such as this. We gave them roots in family and in Christ and wings of confidence to soar and become all they could be. We knew it was time for them to become independent and begin to figure out life on their own. We knew one season of life had ended and another season was about to begin. That being said, it was not easy to emotionally let go or to stop crying for weeks as I grieved the loss of their daily presence in our family circle.
I couldn't seem to get a grip as I struggled with the emptiness that seemed to consume me. I particularly remember one time when I was laying face-down in our hammock, crying so hard my tears went through the hammock and on the patio. It was one of those messy-slobbery-ugly-cries. I missed tripping over the sports shoes that were always taken off at the bottom of our stairs after school. My refrigerator seemed empty. The house was too quiet. I missed the laughter, chatter, and even the music that had a good beat.
The sadness in my empty heart was eventually filled with happiness and peace as I began to see our growing-up children begin to thrive on their own. I had done my part as a mom, now it was time to leave them in God's hands and ask Him to protect, guide, and equip them in their new journey. I needed to move forward with faith and trust, knowing God would always be with them. You do have to come full circle with all of this and, at some point, realize that it's not all about you, it's about them. You are then taking your first step in letting go.
Remember these things:
You will always be their mama and they will always need you.
You did a good job raising them. Don't second guess that.
Say often to them, "I believe in you. You can do this."
Let them manage their own lives and figure it out.
They will make mistakes and they will learn from them. Don't short-circuit that.
Let them know, no matter what happens, you will be there for them.
Pray for them every day.
And, be assured they will come home again – with a suitcase full of dirty clothes, ready to eat a home-cooked meal!
I have dedicated him to the Lord; as long as he lives he is dedicated to the Lord.  I Samuel 1:28
From My Heart to Yours,