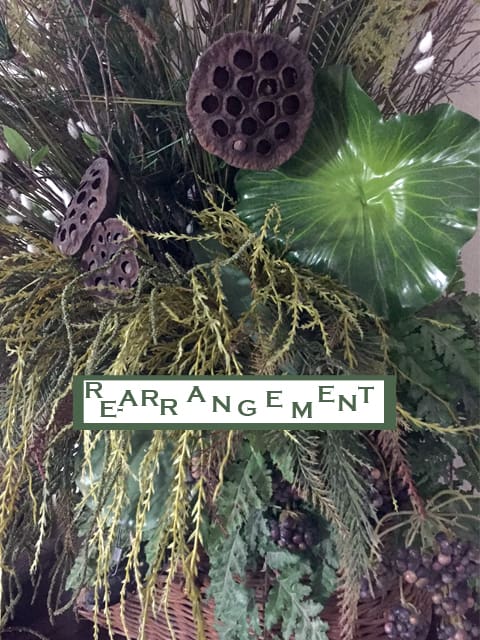 June 2017
Rearrangement
by Jesse Prentiss
movetoprosper.wordpress.com
Most of my moves have been corporate moves where teams of men box up my life in a 2-day flurry. They are professionals, completely detached from the emotional ties I have to my stuff. It is impressive; they can wrap up and box a framed photo in 5 seconds, where as I would look at it for 5 minutes with a tear in my eye recalling the memory and relationships it represented.
Even though things get packed efficiently, things don't always get packed with care. Inevitably some item will be damaged in a move. Despite the bubble wrap, paper wads, and fabric pads something always gets broken, bent, or beat up.
On this last move to Texas, I came to one large, yet light box labeled "arrangement". Inside was the artificial floral arrangement my husband had received from close family friends when his beloved grandfather passed away years ago. To my dismay, the movers had torn out all the plants from the green floral styrofoam. They were just tossed carelessly in the box on top of the basket in which they had originally been beautifully and intentionally arranged.
I tried to replace them the best I could but it just couldn't be duplicated. The process of moving had completely undone this once lovely arrangement. It was totally disheveled with mangled pieces and misplaced parts.
Despite my best efforts I had to surrender it to a professional designer. She was able to reuse some of the original greens, arranging them aesthetically alongside some new pieces to revitalize the look. In the designer's care and expertise, she was able to take what I couldn't fix and make it useful again and more beautiful than before.
I was not, and maybe it goes for you too, that different from the floral arrangement. My life was pretty put together before the move. But once we moved it felt like someone had carelessly ripped up my life and just dumped it in a dark cardboard box grave. There was a kind of death and destruction to my previous identity, beauty, and purpose.
I emerged emotionally broken, bent, and beat up. I wasted time and effort trying to replace things on my own. Despite my best efforts I had to surrender myself to a professional designer. By using the pieces of my past and adding new pieces, God, the Master Designer, arranged my life with a greater beauty and purpose than I was able to attempt on my own.
"For we are God's masterpiece. He has created us anew in Christ Jesus, so we can do the good things he planned for us long ago." Ephesians 2:10 NLT
This verse assures my heart that God is a professional designer, a master artist, and I am his creation, his piece of art, His Masterpiece! He cares about me and no matter how broken, bent, and beat up I get, I can be recreated and made anew in Jesus. This verse helps me trust Him because He has a good plan for my life and He has designed me specifically for a purpose.
Maybe you are feeling broken, bent, or beat up from your move too. If you are feeling overwhelmed by the effort it takes to piece your disheveled life back together I challenge you to surrender to the professional designer. Let go and let God arrange your life into a masterpiece arrangement.
Jesse Prentiss is first and foremost a child of God. She has been married to Jared Prentiss since 2000 and they are blessed with a son and daughter.
She still calls Michigan home, where she was born and raised, and lived in Ohio for most of her married life. Her husband's corporate moves have relocated them several times before their latest stop in Texas in 2015.
She received her first copy of After the Boxes Are Unpacked in 2001 as a gift and has gone on to help lead the study based on this book in Ohio and currently leads it in Texas.
______________________________________________________________________
Submit a devotional to Just Moved Ministry. Has God been speaking to you and guiding you through a life change? Send your devotional of 500 words or fewer to akelley@justmoved.org. Each submission will pass through our editorial staff. Include a brief bio and a picture, if you'd like!
[ If this information has been helpful, please prayerfully consider a donation to help pay the expenses for making this faith-building ministry available to you and your family! Donations are tax-deductible. ]