December 2018
New Every Morning
Awaken to a new day of possibilities, potential, and promises
by Cathy Clifton
Because of the LORD's great love we are not consumed, for his compassions never fail. They are new every morning; great is your faithfulness. Lamentations 3:22-23
Shhhh! It's early morning and our home is still in darkness, clinging to the last silent moments of a peaceful night. I have tiptoed quietly through the house while my family slumbers and on to the back porch. Coffee and Bible in hand, I nestle into my comfy patio chair ― a front-row seat to the light show about to begin. Another private screening of God's glory is about to begin here in my backyard.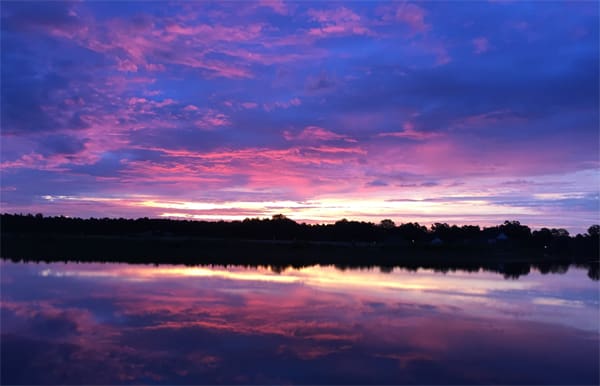 The first inky, watery hues that begin to lighten the horizon are my cue that the show is about to begin ― the dawn of a new day. Tucked away here on my porch, the most incredible colors begin to emerge over the edge of the small pond behind our house. Every morning is something new. A symphony of color dazzles and bursts forth. Colors shift and change from moment to moment as God's light show creates more colors than a color wheel can hold.
Clouds shift and change. In a crescendo of beauty, a gaggle of geese fly overhead, silhouetted against the canvas. In unison, they turn to land on the water with a gentle whoosh. Then, just as I think this show of glory couldn't get any more spectacular, it happens ― the sun, whose rays had begun stretching over the brim of the earth, is now peeking over the edge of the trees lining the far side of the pond. The golden warm light washes over me. A new day has dawned, God has done what only He can do ― created new day. A new day full of possibilities, potential, and promises.
Thank you, Lord! Thank you, Father God! I applaud you for the glory of your handiwork and thank you that I get to see you in the act of creating something new and fresh! What a wonderful artist you are using the sky as your canvas! Thank you for allowing me to see this small part of your glory today. May I be a blessing today as I have been blessed. Amen
Cathy Clifton has been married to Rick for 28 years - 27 of those years as an Army family. With their two daughters, they have moved 16 times and almost always enjoy the adventures along the way.
______________________________________________________________________
Submit a devotional to Just Moved Ministry. Has God been speaking to you and guiding you through a life change? Send your devotional of 500 words or fewer to akelley@justmoved.org. Each submission will pass through our editorial staff. Include a brief bio and a picture, if you'd like!
[ If this information has been helpful, please prayerfully consider a donation to help pay the expenses for making this faith-building ministry available to you and your family! Donations are tax-deductible. ]