January 2019
Begin . . .again
By Christa Sterken
For years, when my husband called me from work my stomach filled with dread. It was rarely just to say hello. It usually meant another move was in store.
In a six-year span we lived in six houses.
After the move to the coast, we moved north. Then back to the coast. Then back to the same city. Every move with children. Whew, we were bone tired.
When the call came that work was closing shop and offering us one remaining position 2,600 miles away (oh, and in less than a month) we clearly were shocked. Jobs were getting hard to find and it would be risky and foolish to turn it down.
We were moving . . . again.
Again is difficult. When the word passes across our lips it is seldom in celebration. Frequently again seems to be charged with a frenetic energy that defies peace.
I am here to tell you that peace can be found in "agains." It takes work. Determination. Refusal to lie down and quit.
Don't fear the word again; tackle it. Choose to define it in a fresh way. Look up the word in the dictionary and you'll find definitions like afresh, additionally, furthermore.

Your story is not ending with this move. Each again is God's call to start afresh and to turn the page to an additional chapter He's writing. Furthermore, leaning on God in this fresh start can shrink the shadows of despair and fill the corners of your life with dazzling brightness.
And the pleasant surprise? The sun rises again. The birds sing again. Laughter tickles our souls again.
God specializes in fresh starts and new beginnings. Again and again.
Choose a new word and begin, again.
[DISPLAY_ULTIMATE_SOCIAL_ICONS]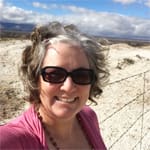 Christa Sterken is passionate about encouraging women  to embrace the beauty of an imperfect life. Visit her at www.christasterken.com
[ If this information has been helpful, please prayerfully consider a donation to help pay the expenses for making this faith-building ministry available to you and your family! Donations are tax-deductible. ]