February 2017
Immersed
Leah was brand new in her community. Responding to the needs around her during an epic flood led her to connect in ways she couldn't have imagined.
by Leah Lively
bayoublessingsblog.wordpress.com
Change scares me, especially when it is not something I initiate. My husband craves it. If he sits still for too long, he becomes restless and loses pieces of himself in the process. I admire this quality, I just don't necessarily want it myself.
Change needed to happen in his job and it would come 15 hours away. We both grew up, went to college, and began our life together in Virginia. After fifteen years of marriage and four children, we had definitely endured plenty of challenges, but this move would prove to be different. With no family or friends to reach out to us for support, we would enter the bayou of Louisiana three weeks after a major police shooting and one week before the flood of the century.
A job in Baton Rouge proved too promising to pass up, so we packed up our lives and arrived on August 3, 2016. God had paved a clear path for us by providing housing and a growing church nearby where I had already made connections to get my children involved. With a desire to make this the most positive move possible, I fervently asked God to open my eyes to his work, no matter how big or small, just to reassure me that he was there and working out a place for us.
Our moving truck arrived on August 7th. One of the local movers was the father of Montel Jackson, an officer who was killed a few weeks prior. He shared his story with me and the legacy of his son. I was moved beyond words and knew immediately that God had placed us here for a purpose. Although it wasn't clear what that was, it was evident that God wanted us to be more than physically placed in this community, He wanted us to be drawn in emotionally, feeling their pain.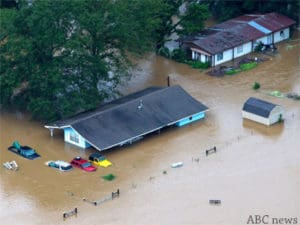 The emotional attachment wouldn't stop there. School began on Monday and my supply-laden, uniform-clad children were thrown into a new world all on their own. Their first week of school was cut short, when the torrential rain began that Thursday and canceled school on Friday. The rain continued, without letting up, through Saturday morning. It was rain like I had never seen, as if the clouds gave us every drop of moisture they possessed. We were aware of some flooding - our neighborhood was spared - but had no idea the extent in the area.
Sunday, we visited the church I had connected with prior to moving. They were mobilizing teams to rescue people from their homes with boats. They were asking for food and supplies to care for families who would surely be coming in need of help.
We were barely moved in ourselves and our hearts broke for the people here. We got a small taste of their strife and were forever bonded to them. My husband and daughter helped fill sandbags at the fire station nearby.  My older daughters helped collect and distribute supplies at the church throughout the following two weeks. With two smaller children at home, I coordinated my own supply shelter by receiving needed items from friends and family all over the country. One church, who I was merely connected with through a mutual friend, sent a 200lb pallet of school supplies to my home.
Within a month, we had gone from barely stepping out of our comfort zone, to being fully invested in a broken community. I firmly believe, that surrendering this move to God, and being willing to see his hand working, made the biggest impact in our adjustment here. He is faithful, always "working all things together for the good of those who love him" (Romans 8:28). We just have to keep our eyes open to see it.
[ If this information has been helpful, please prayerfully consider a donation to help pay the expenses for making this faith-building ministry available to you and your family! Donations are tax-deductible. ]