February 2020
Where the Steadfast Meets the Stationed
By Christina Rauh Fishburne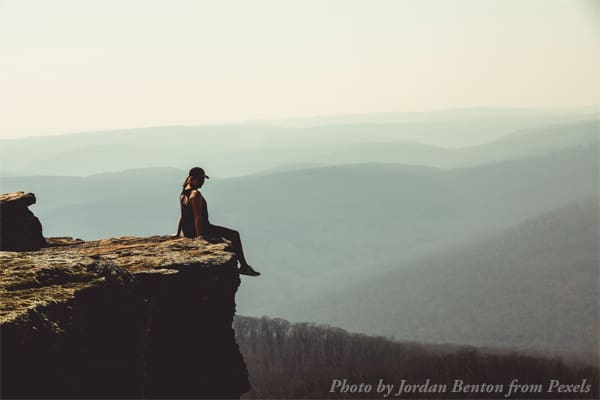 I love words. 
The word that has come to my attention most often this year has been steadfast. It's all over the Psalms of course, but I've been in three studies and the readings usually have it in there at least once or twice. I sort of knew what it meant but looking it up just now I see "firmly fixed in place; immovable." This is the part where I roll my eyes upward á la surly pre-teen who has just been told to go put more deodorant on; I know I need to hear it, I know I need to do it, but it's just so irritating to acknowledge I needed to be told.
When I find the word "steadfast" in the Bible, it's usually not referring to the writer. God is steadfast. His faithfulness is steadfast. His love is steadfast. His hope is steadfast. Paul and James plead for us to be steadfast through hard times, but nobody has to ask God to be so. He just is. Jesus is not of equal rank with us. What is a problem for us is simply not a problem for Him.
My family is preparing for a move. And when I say "preparing" I mean "girding our loins." It's the fourth overseas move we've done—which means eight times we've had to plan for shipping/collecting a vehicle, selling/buying a vehicle, long hotel stays on both sides of the ocean, storing/collecting belongings, a few exciting passport/visa/driving test experiences, plus the regular moving stuff that everyone adores. 
There is very little that is steadfast or "fixed in place" about life.
The only immovable thing is my expectation of watching my bank account drain faster than a sink hit with a bottle of Liquid Plumber. (New Retirement Plan: figure out how to patent a toothpaste-based masonry fixative)
Where we are going, the natives speak English so my concerns over communication are minimal. But where I am in my marriage, my parenting, and my closeness with Jesus is seeming more and more like a foreign land. I can't read the signs. I miss important turns. I get lost and disoriented. I run out of gas. This is a metaphor I could absolutely beat to death . . . .
I'm worried about where we're going to live, if our orders will get here in time to get us all over there together or will I be left to deal with it all while my husband has to start his work. I'm worried about where my children will go to school and if they'll be safe. I'm worried that my 4 year will wear diapers to 2nd grade. I'm worried we'll die in a plane crash. I'm worried all of our belongings will sink to the bottom of the sea. I'm worried about all the events in family's and friends' lives that I'll miss over these three years. I'm worried I won't find a church or a Bible study group I like. I'm worried that I'll get fat on cream teas. I'm worried that I'll spend too much. I'm worried that I won't love my husband enough. I'm worried…that Netflix won't work.
In the midst of these worries, nothing about me seems steadfast. But Jesus is steadfast. He is The Word. He is the answer to my worries and He always will be, no matter if the worse happen. 
Jesus is steadfast. And I know where to find Him.
Christina Rauh Fishburne has written stories and pretended to live in stories since she was a small child. Graduating from the University of Alabama with an MFA in Fiction Writing, getting married, having children, and finding her signature red lipstick remain her top accomplishments in life. She lives with her husband and three children wherever the Army tells them to live. And she does it with a fabulous positive attitude. Every time.

Visit her blog at
smilewhenyousaythat.wordpress.com
[ If this information has been helpful, please prayerfully consider a 
donation
 to help pay the expenses for making this faith-building ministry available to you and your family! Donations are tax-deductible. ]