With every step that I take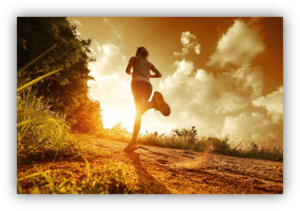 Confession time. I'm training to work up to a 5k run with my granddaughter. We will make memories sharing the experience together, laugh a lot, cheer each other on, and take lots of pictures. Seize the moment, capture the memory. That's what it's all about for me.
We will reach the finish line, but not in competitive record breaking time. Realistically, I will alternate between walking at a brisk pace, and then jogging. I can do that. I will do that. However, maybe not as soon as I would like.
It was a beautiful afternoon for a jog around my neighborhood. I had just walked and jogged on my training schedule the day before and was excited to set my phone timer and train two days in a row. I was pumped. I jogged two blocks down my street when I heard, and felt, a pop in my hip area. I couldn't put any weight on my leg. The pain was excruciating. I was fearful of the unknown.
My first thought was that I had either broken or dislocated something. I knew I was scheduled the following week to speak for the Fort Gordon military spouses retreat in Georgia, and needed to be able to walk and travel. I started praying. "Get me home, Lord, and help get me to an emergency clinic…"
It seemed to take forever to get home. With every painful step, I continued to pray. God began to calm my anxious heart and emotions. I hobbled in the front door, grabbed my purse and keys, and somehow drove to the clinic, determined to function above the pain.
Bottom line…nothing was broken or dislocated. I had torn one of the quadricep muscles in my thigh. (I now have great sympathy with those who strain or sprain muscles or ligaments.) The doctor gave me a shot to ease the pain, then told me to apply the R.I.C.E. method–Rest, Ice, Compression, Elevation.
I faithfully did just that, and stayed down all weekend. With each day, I am feeling less pain. Each step that I take I thank God that my injury was not severe and that I can walk, even with a limp. Although not 100% yet, I will be able to travel. I will get to those precious military spouses!
Since all this happened, I've thought a lot about the steps I've taken in the last few days. Steps of pain that took me to prayer, steps of gratitude that took me to praise.
Then a few people from the Bible came to mind…
Mary took the painful steps of childbirth.
The shepherds walked step by step to the manager to praise the birth of Jesus.
Moses took painful steps to lead the Israelites out of Egypt.
The Israelites took the steps of grumbling, rather than the steps of gratitude.
David took painful steps through difficult times and depression. And even then, he wrote the Book of Psalms with poetic praise and prayers of gratitude.
Paul took the painful steps of persecution and imprisonment. And yet, he always stepped up to give God gratitude and praise.
Jesus took painful steps to the cross to die for us. And now, we can take steps to give gratitude and praise for a Risen Savior.
Oh Lord, let my steps of pain always lead me to you. In all my circumstances, let my steps lead me to a place of gratitude and praise.
Where are the steps of your pain and circumstances taking you?