Tempted to ignore God's nudge. Glad I didn't!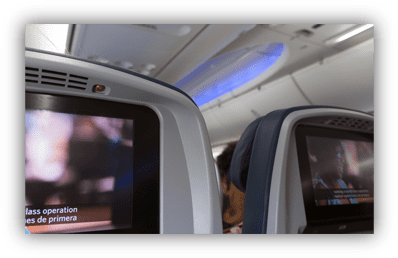 I will confess. I am not very friendly on an airplane. Those travel hours are my down-time before I step off the plane to give my all to the women where I will be speaking.  It is when I switch hats, pray, calm my spirit, and focus my mind and heart.
A smile and a hello is about all you will get if you sit next to me. I'm not looking for a new friend or to start a conversation with anyone. "Please and thank you" for a cup of coffee and peanuts or pretzels is pretty much my verbal communication.
That is, until this tall, young, handsome, muscular African-American man, with arms built like a line-backer, walked down the aisle, stopped at my row, and said, "Excuse me, we have the middle seat."
He was carrying a little boy, who appeared to be about a year and a half old, along with a diaper bag on his shoulder and a backpack on his back.
Oh.my.goodness, I thought. Why next to me?
I had on the clothes I was going to wear that afternoon for speaking. I envisioned sticky fingers. There was no time to change when I arrived, so I was dressed and ready to go on stage. I was planning to go over my notes during the flight in the solitude of silence.
He quickly placed his backpack under the seat and crammed the diaper bag in next to it. There was no leg room left for him. He then quickly turned his little boy to face him, with his little legs around his daddy's waist. The child lay his head on his daddy's chest in total contentment and stared at me with a captivating smile. His daddy gently placed his arms around his son, to keep his little arms and hands from touching me or the man by the window. He maintained this posture during the entire flight. I could only imagine how uncomfortable it was for this man, while his son seemed delighted to have his daddy's complete attention and to be held so close. There was an obvious bond between them.
Once we were in the air, he pulled out the diaper bag, took out a bottle with apple juice, and gave it to his son. This huge, football-player-looking-man smiled and talked lovingly and quietly to his son as if it were just the two of them with no one else around. He then gave the little boy a pacifier and he slowly drifted off to sleep on his daddy's chest, with only the sound of his daddy's heartbeat in his ear. He gave him a cookie when he woke up and then wiped his little hands so they wouldn't accidentally touch me. They never did.
I was so entranced by how this man was so intentional in keeping his child occupied and contained with his arms circled around him. I could tell that he didn't want to disturb anyone on either side of them. That middle seat seemed to shrink even smaller with the two of them in it. He got up once to go to the "lounge" in the back of the plane and took the little boy to stretch his legs.
It was when he sat back down, that I turned to him and said, "I just have to tell you what an amazing dad I think you are and your son is so well behaved for his age."
"Thank you ma'am,"  he said. "He wasn't this good on our flight from Hawaii. He didn't sleep at all with the time change, and that five-hour flight was rough."
Then out of the blue, it hit me. "Are you military?"
It was then that my heart melted for this young man. He smiled and told me proudly that both he and his wife were in the Army, stationed in Hawaii. He had gotten orders to deploy and was on leave to visit his mother and family in Alabama before going to a remote part of the world. He was taking his son to see his grandmother for the first time. He said how anxious he was because this was his first deployment in a dangerous place. He never mentioned where, or what his mission was. I could only imagine.
I told him my name and he introduced himself and his little boy. As we began to talk, I shared that my dad, brother, and husband were military men. He told me about his family and how proud he was to serve his country in the Army. I shared God's words of encouragement and hope. I reached over my seat, touched his arm, called him by name, and said I would pray for his safety and protection in the months ahead.
I think of this young man quite often and pray for him. I remember his gentle strength and tender heart for his son, how his eyes lit up when he talked about his wife and his family in Alabama. I remember how Army Proud and Army Strong he was. By now he is far away in another land…
I shudder to think what I would have missed that day if he hadn't sat next to me.  I'm embarrassed to think how preoccupied I was with myself and my "outfit."
If God hadn't nudged me to say more than hello, I wouldn't know his story.
I wouldn't have shared God's hope and encouragement, which seemed to soothe his soul. And, I wouldn't have the privilege of praying for a dedicated and committed husband, father, and Army man.
Nudge me Lord. Use me where I'm needed. When I feel comfortable, make me feel uncomfortable. Take me out of my little world in an aisle seat and stretch my boundaries to the middle seat and beyond…