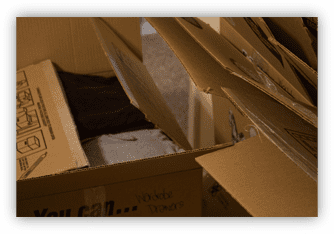 A friend stopped by our Just Moved office for a visit and during our conversation she said, "I know why I've never settled in and feel so disconnected since I moved here. It's taken me a long time, but I've finally figured it out. I've never completely unpacked and gotten rid of all the boxes that I brought with me!" She went on to explain how she had quickly unpacked all her belongings and discarded those boxes, but still had boxes of emotions and feelings that she had never unpacked.
They had become her hidden baggage of grief, loneliness, anxiety, fear, comparison, inadequacy and loss of identity. The tightly packed emotions and feelings she felt inside had kept her from starting over and moving forward with life since she moved here.
Our conversation brought back memories of my own "unpacked boxes" when we moved. Too often I became withdrawn and disconnected because I never unpacked boxes of stuff inside that needed to be handled with care and understanding. I suffered silently as I did the next thing in the routine of moving– getting our children nestled in to school and activities, settling in a new home, finding a church and learning my way around the area. With Bill's new job being all consuming, there was little time left for us. I kept that box of hurt inside, too.
As I began to grow in my relationship with God, I knew that I had to begin the process of unpacking those moving boxes that seemed to accumulate move after move. I prayed for His guidance to not only help me unpack, but to get rid of those boxes. I began to cling to the promises in His word (and believe them).
This is the life-changing sentence of scripture in I Samuel 17:22 (NASB) that helped me know where to begin…
Then David left his baggage in the care of the baggage keeper…
David, the shepherd boy, left his "baggage" in care of the "baggage keeper" when he had to overcome and defeat the giant, Goliath. He left behind the things that would keep him from moving forward to get to the battle line to defeat Goliath.
You can leave your baggage of unpacked boxes, full of feelings and emotions, in the care of your personal Baggage Keeper–Jesus Christ. He is the one who can carry all your "stuff." Nothing is too heavy for Him. Not only will He lighten your load, He will bear your burdens. He will equip you to unpack, overcome, and release whatever is keeping you from moving forward.
In other words, lay it all down at the feet of Jesus. Daily let it go. Daily remind yourself that you are not unpacking alone. Yes, I said daily. It's so easy to pack those boxes and pick them up again each day. We try to handle our feelings and emotions in our own strength and manage them alone. It is an everyday battle, my friends.
I, too, have to choose to leave whatever giant emotion I'm facing for the day at the feet of Jesus. Many a day, He carries me in His arms because I'm too weak to stand alone. I fight the battle of emptiness with the loss of Bill. Many a day, I fight feeling overwhelmed with house maintenance, ministry needs, people needs and even my own emotional needs. Some days I fight feeling inadequate to write or speak and battle the giant of comparison. There are times when unpredictable grief washes over me like waves in the ocean. These are all boxes of giant emotions that I choose to fight as I lay them down daily and give them to my Baggage Keeper.
What still needs unpacking in your life? What feelings and emotions are keeping you from starting over and moving forward after your move, or any time?
Choose now to run to Jesus and lay them down at His feet. Begin to start over with hope and move forward with faith.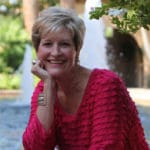 From My Heart to Yours,