First, you might need a little back story…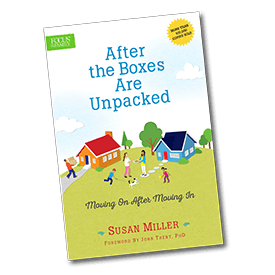 Not only was 2015 the twentieth anniversary of Just Moved Ministry, it was also the twentieth anniversary of my book that launched the ministry, After the Boxes are Unpacked. Wow! Just thinking about the lives touched for Christ through this ministry and this book – for twenty years – brings me to my knees in total acknowledgement and awe that God, and only God, gets the credit, the praise, the kudos, the pat on the back, the applause, and the standing ovation for what only He could accomplish.
I founded Just Moved Ministry in 1995, after 14 moves with Bill's career in the hotel business. I lived, felt, and experienced what women go through when their lives are uprooted by moving.  I get how moving can rock your world, and shake your foundation to the core – whether you are married or single, have children or not, young or old, working or retired. Helping women get through the emotional rollercoaster and chaos of a move became my purpose. Introducing them to Jesus Christ and His words of hope and encouragement became my passion.
Soon after the inception of Just Moved, I wrote After the Boxes are Unpacked, published by Focus on the Family. FOTF has partnered with me for twenty years on this book and a later book, But Mom, I Don't Want to Move! It is a privilege to be associated with them in ministry, both professionally and personally.
They refer to After the Boxes… as an "evergreen" book with a timeless message for uprooted women. I guess they were right, it has sold over 100,000 copies and continues to help women going through a major life change.
Never in my wildest dreams could I have imagined that FOTF would ever consider After the Boxes… worthy of updating and revising after twenty years. I had visions of it eventually fading into the sunset, and becoming a faint memory as the years passed. But God had other plans beyond what I could have dreamed or imagined.
The revision process began with emails and phone calls back and forth, resulting in a new book proposal that had to be approved. FOTF caught the vision, saw the endless need, and wanted to "move" forward by having me update and revise the book to produce a new edition that will reach the next generation! It meant a new cover, new material, revised terminology, expanded chapters – while, at the same time, keeping the core message and three-step process which is, indeed, tried and true to all generations of movers. It took months of writing, revising, updating, editing, and prayer.
What will happen in 2016
The new book, with a new cover and same title, will be released April 2016! Woo hoo!! I will give you a sneak-peek into some of the new stuff between now and then.
On the heels of finishing the book, I started updating and revising the Teacher's Study Guide, the Newcomer's Workbook, and the DVD Facilitator's Guide to accompany the book. If you are a teacher or facilitator, start smiling now!
And it's not over yet! January 25-27, I will be filming a new Video Series – a process that will take three days! I am scared silly. Please pray for me!
By April 1st, Lord be willing and the creek don't rise, we should be ready to release everything at the same time! Hoo-ray!!
April 2nd, I will sleep for a week, eat cheesecake, drink afternoon lattes, read a novel, catch up on Downton Abbey, go to lots of movies and consume the large bag of popcorn!
And, I say with all my heart, and mind, and soul…
To God be the glory, great things He has, and is, doing!!