Your kids learn from your example
by Ann Kelley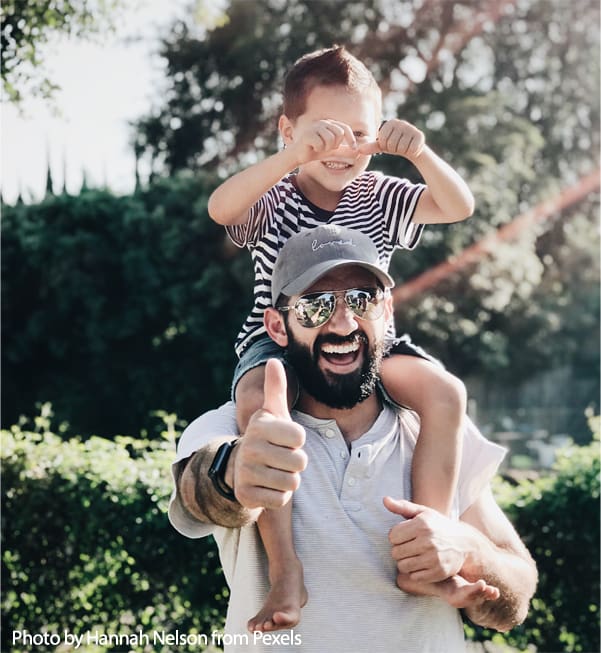 Scottsdale, Arizona has many lovely areas for walking, biking and hiking. Yesterday was a particularly beautiful day – temperatures in the mid 70's, the last of golden leaves clinging to the cottonwood trees, wild ducks and herons floating or wading in the small, man-made lake, and even an eagle perched high in a tree, waiting for a fish to nab. Lovely.
Many were out enjoying the afternoon.  A father, jogging in my direction and followed by his young son on a bike, caught my attention.
This is beautiful! Right, Daddy?" the boy called from behind his father.
Daddy called back, "It sure is!"
I was touched by this simple interaction. The boy couldn't have been more than 7 or 8, yet mom or dad (or grandma, grandpa – someone in his life) had taught him to look around and appreciate the beauty that there is to find.
But there was more here than appreciating beauty.
 

…Right, Daddy?"
That simple question was his desire to connect and be affirmed by his dad. He was checking in with Dad.
Is my perspective valid, Daddy?
I'm valuing the things you value, aren't I Daddy?
Do you remember that I'm here behind you, Daddy?
This little boy was following his daddy  – not just physically on his bike, but psychologically, emotionally, spiritually, and developmentally.
Since you're reading this, there's a good chance that you're experiencing a move or other big life change. If you're moving with kids, what are you communicating to them? Are you pointing out the beauty that is to be found (even if you're having a hard time seeing it yourself)? Are you validating their experience? Are you remembering that they're right behind you … following?
You are helping your kids create the lens through which they will see the world. Is it a lens that will see beauty and hope? Is it a lens that will see God?
Try as you might, some children will choose not to embrace the lens you offer them … yet.
The results are out of your hands, but your children are in God's hands. There is no better place for them.
Trust in the Lord with all your heart; do not depend on your own understanding. Seek his will in all you do, and he will show you which path to take." (Proverbs 3:5,6)

But I am trusting you, O Lord, saying, 'You are my God!'" (Psalm 31:14)

And anyone who welcomes a little child like this on my behalf is welcoming me." (Matthew 18:5)
Ann Kelley loves crossword puzzles, singing, and editing and is Director of Communications and Webmaster for Just Moved Ministry. She seeks conversations and readings that delve into what really matters to our world, our relationships, and our mental and spiritual health. Most days you'll find her on the hiking trail seeking refreshment and solace. Contact her at akelley@justmoved.org