Our Moving Makeover offers easy and practical tips, how-to's, ideas, and encouragement to make a change and improve your life in your home, your health, fashion, or beauty
---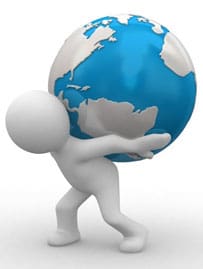 By Polly Wick
- a friend of Just Moved Ministry and a blogger, teacher, and master pie maker
This month for our Moving Makeover, the task is to examine your responsibilities: those you've chosen, those that have been thrust upon you, and those that you should let go of. Spend time reflecting on this list. Are there responsibilities that you need to let go of? 
Let go
To let go does not mean to stop caring, it means I can't do "it" for someone else.
To let go is not to cut myself off, it's the realization I can't control another.
To let go is not to enable, but to allow learning from natural consequences.
To let go is to admit powerlessness, which means the outcome is not in my hands.
To let go is not to try to change or blame another, it's to make the most of myself.
To let go is not to care for, but to care about.
To let go is not to fix, but to be supportive.
To let go is not to judge, but to allow another to be a human being.
To let go is not to be in the middle arranging all the outcomes but to allow others to affect their destinies.
To let go is not to be protective, it's to permit another to face reality.
To let go is not to deny, but to accept.
To let go is not to nag, scold or argue, but instead to search out my own shortcomings and correct them.
To let go is not to adjust everything to my desires but to take each day as it comes, and cherish myself in it.
To let go is not to criticize and regulate anybody but to try to become what I dream I can be.
To let go is not to regret the past, but to grow and live for the future.
To let go is to fear less, and love more.
Here's an idea . . .
Cut each definition into a strip.
Fold it and put it into a basket.
Each morning for your quiet time, ask God to give you the particular definition for you to focus upon during your devotion time.
Write the definition you chose in your journal.
Think about how that "let go" definition does or doesn't apply in your life.
Write about it.
Ask God for guidance and support if it is important to your growth and the health of your relationships.
How does God speak to you about letting go? As a mom of adult children I find I am still "mothering" in areas I should have outgrown by now. I'm sure Shaun and Ellsa will appreciate my new attitude of letting go and I hope they will take this list to heart and remember it when they marry and have children of their own. I hope it is of help to you too and that God will bless the positive steps you take as you walk with Him. He leads we follow.