This Little Light of Mine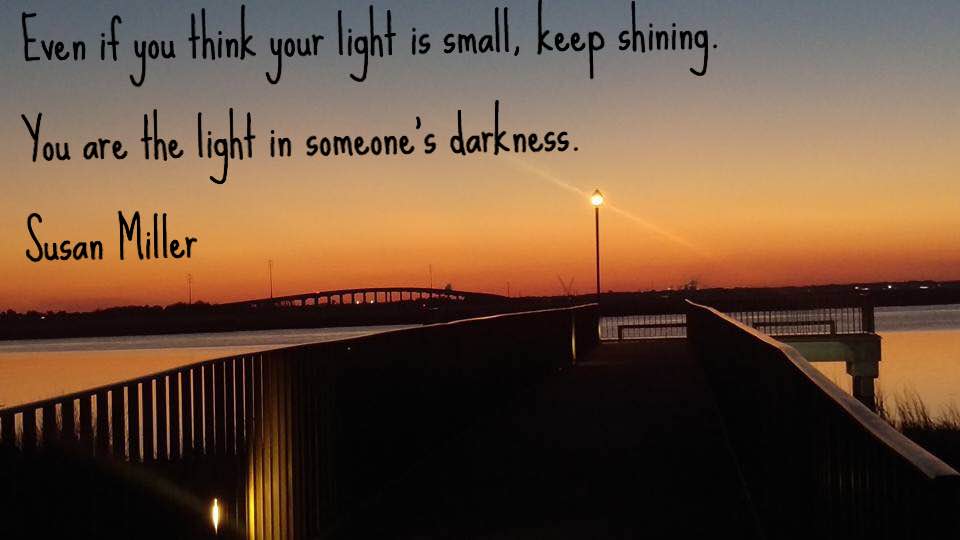 I don't know about you, but there are many times when I feel like my light  is not only flickering, but growing dimmer by the minute .
If I can be really honest and vulnerable  with you, there are times when I feel so completely inadequate to shine for anything, or anybody.
I can go from a roaring fire that sparks everyone around me with enthusiasm,
to a spotlight that focuses on just one person.
to a 150w light bulb that brightens a room.
to a flashlight that lights a pathway,
a candle that only holds a glow for a while,
or a match that burns down quickly….
You get the picture. You can probably identify with one of those as a mom, career woman, ministry leader, single woman, volunteer, or a leader in your community.
We can't possibly be a bright, shining light all the time.
Stuff happens.
Life brings hard knocks.
Emotional and physical pain can consume us.
Disappointment and heartache can cut us off at our knees.
Perspective goes sideways.
We can't seem to get a grip on a situation.
Inadequacy sets in.
Then the downward spiral spills over to negative  thinking,
…and Satan has a field-day.  He's got a threshold  into our life, our emotions, and our thoughts. He would love nothing better than to over-power our light and claim our darkness.
We may not be a bright, shining light all the time, but we can claim Jesus Christ as our light, even on the darkest days. That little flicker of light will bring hope to someone in our family, a friend, a co-worker, or even a stranger.
So keep on shining girl, however small your light might be.  You are indeed the light of Jesus in someone's darkness.
Lord, you have brought light to my life;
my God, you light up my darkness.  Psalm 18:28  NLT