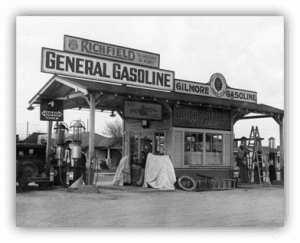 When I was a young girl, Mama and I went on a trip to South Carolina to visit my grandmother, aunts, uncles, and cousins. Daddy was stationed in Korea at the time, so we decided the best place to be was surrounded by the comfort and warmth of family. Off the beaten path of interstate highways, we traveled along on the typical two-lane roads that led us to our small town destination. Captivated by the beauty of farm land with perfectly planted rows of crops ready for harvesting–we took a wrong turn, and got lost.
We stopped at a little country gas station, known back in the day as a "filling station", in the middle of nowhere. An old gentleman was sitting in front of the gas station in a chair that was leaning back on two legs against the wall. He wore overalls and a wide-brim straw hat that shaded him from the hot sun. We pulled off the road in a cloud of dust. Mama rolled down the window and said, "Excuse me, sir. Could you tell me how much farther it is?" He got up from the chair and walked over to the car. He scratched his head as he replied, "Well, ma'am, it all depends on where you're comin' from and where you're goin' to." Mama realized how funny her question was, and we all laughed together. She then gave him the information he needed to tell us how far we had to go.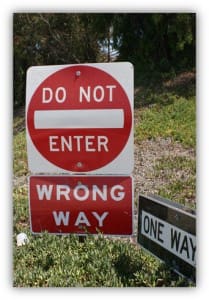 Sometimes, when I find myself moving in the wrong direction, the old gentleman's words come back to mind. I ask myself, Where am I comin' from and where am I goin' to? It always keeps me focused on making sure I'm moving in the right direction, especially since it's so easy to quickly get off track with wrong priorities, or sidelined with distractions Oliver Wendell Holmes said, "I find the great thing in this world is not so much where we stand, as in what direction we are moving." So I ask you, my friend, Do you know where you're goin' to, and are you movin' in the right direction?
Who you are, who you become, and the decisions you make, are pretty much affected by where you're coming from, where you're going, the life you lead, and the choices you make.
But one thing is for sure: you're moving in the right direction if you choose to follow Jesus Christ. Plain and simple as that. To know Him is to love Him, and to follow Him is life changing. Jesus beckons us to follow Him. He said, Come, follow me (Matthew 19:21). We are toFollow God's example in everything (we) do…(Ephesians 5:1). The more you read, study, observe, and know Jesus Christ–and then imitate Him–the more He will flow from within you.
In all you do and say, make it a priority to "live out" Jesus' direction in your life.
I know how easy it is to let my priorities shift, lose my focus, get distracted with stuff, busyness, and the craziness of life. I can easily take the wrong exit and get off the main road to Jesus. I have to be intentional every day to move in the right direction and not lose sight of where I'm going. Some days it's harder than others. Some days I totally blow it. But He always nudges my heart to get back on the right road that leads me to Him.
You, my friend, are never too lost, or too aimlessly wandering in the wrong direction. Stop. Don't be afraid to ask Him for directions. Listen…
Come follow me, Jesus said.
From My Heart to yours,
An excerpt of this story is found in Susan's updated edition of After the Boxes are Unpacked, a Focus on the Family book, published by Tyndale House and available at JustMovedShop.com.
Guardar