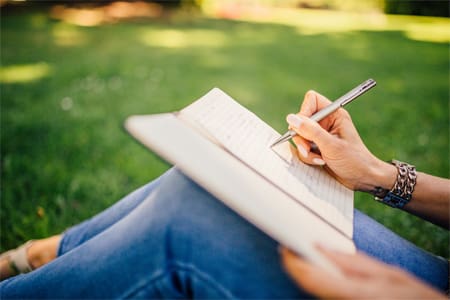 by Polly Wick
People often say they'd like to write or think they should be writing in a journal. Most everyone has experienced writing their thoughts and feelings in a diary or notebook that soon gets packed away, 10 pages in.
Writing to vent anger and release feelings is accessible and helpful in the moment but who wants to look back at unpleasant episodes? And what change comes of it? So, the practice usually stops right there.  
Something teetering on miraculous happens when you write to Jesus instead of yourself.
You change. Your relationship with the Holy Trinity deepens, setting your thoughts and emotions on solid ground. Processing life with your creator is satisfying and trustworthy.
Below are some tips to help you get started on a meaningful and life-changing practice.
Make a commitment to write three days a week.
Before you go to bed, set up a space you'll look forward to in the morning. In a basket, gather your Bible, devotional, journal and pen. Make your space special. Light a candle. Treat yourself to a vase of flowers.
Write before talking, before the routine of the day breaks in. Protect the mystical time between sleep and the new day. Start by reading scripture or a devotional to prime the pump.
If using your computer, go straight to a blank page. Don't check emails or the socials.
As you would write a letter, date the page and begin with a holy salutation. Dear Lord, Father, Jesus, Holy Spirit.
Turn off your inner censor. Write fast with little attention to grammar and spelling.  Don't suppress your feelings but be mindful and reverent.
Keep your pen, or computer keys, moving. Natalie Goldberg says in her book, Writing Down the Bones, when you get stuck, write out the words, "what I really want to say is.....…." Then write what comes. It works.
Be honest. Write what is there. Tell Him what is on your mind. Ask Him to change angry feelings, the sad mood. Explore with Him a project. Write your goals!
If  you've written something that may hurt another, simply shred the paper (or delete) and ask God to continue to help you with that person or issue.
Let your loved ones know your journal is private and you expect them to honor your privacy. It's not necessary to write names as you write. God knows who or what you're talking about. 
Ask questions of the Lord and let the Holy Spirit answer on the page. You'll recognize His voice because it lines up precisely to His Word.
Do write the names of those you pray for daily. Be generous with praise for answered prayers.
Writing your prayers is a sure way of keeping a close and intimate relationship with the Lord. You will find that all you've hidden away inside will be changed. Your heart will soften, your soul will be cleansed and your mind renewed. Writing your prayers will change your life from the inside out. Will you try it? 
Polly Wick is an uprooted woman, gratefully inspired and enriched by Just Moved Ministry, led by Susan Miller. Polly spends her time tending babies, gardens, prose, and pies.