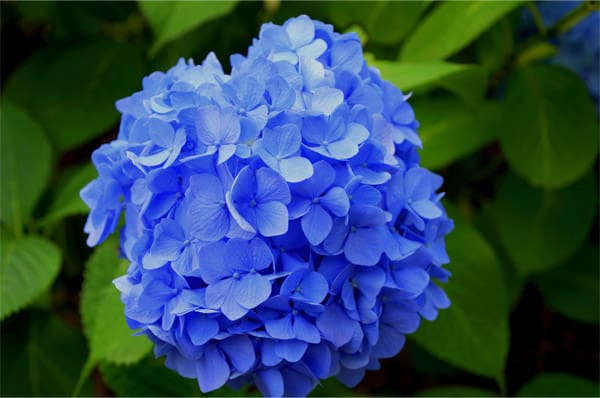 by Tracy Steel
I remember one year ago today well.
We were locked down, and I was unable to go and be where I wanted to go and to be. I love God and trust in His timing and wisdom. But man, I was struggling to trust and wait on Him this particular day. 
I was lonely. Frustrated. Over the pandemic. Feeling like time was ticking and I was of no use to anyone as I stared at the yellow walls around me. But then… my hydrangeas bloomed. Along with our cherry blossoms, these were my other favorites that I waited all year to enjoy. It was their time. So they bloomed.
I decided to repost this picture again, because looking back, I didn't know how long things were going to remain as they were. I just remember picking as many blooms as I could, gathering them into clusters and then scattering them around our home in various vases so I would have reason to smile no matter where I went within our home. Back then I also knew that where I would be headed next isn't known as a popular destination for hydrangeas bushes. So my time to enjoy them was short.
It's a year later. Many of you are experiencing loneliness, frustration, discouragement, or loss. And as expected, hydrangeas do not bloom well here, in the desert.
We are no longer locked down, but life continues to be full of shocks and surprises of many kinds, doesn't it? I understand. There are some days where I still struggle to trust God completely even though I love Him so very, very much.
But there is still beauty around us to collect and focus on. So keep on trusting. Keep waiting. Do whatever you need to do to scatter reminders of the beauty of God's goodness and faithfulness around you. Memorize His Promises. Pray until your eyes are dry. Pray some more. Keep worship music on all day long. 
Pursue hope. 
Go buy some hydrangeas. 
For time marches on, and so does our God. He is always moving in your life, making all that you are experiencing now beautiful in His time. You will bloom again.
And even if something you hold dear is only meant to be enjoyed for a short time… remember it often and smile, for it served its purpose and bloomed when it was supposed to and when God knew you needed it too. 
Be encouraged.
It is well.

Tracy earned a degree in interior design, but she has pursued a different kind of interior design - God's true design for the interior space of the hearts and minds of women around her.
As a military wife and mother of two, Tracy currently pursues her passion for ministry through speaking, writing, and serving women in the Phoenix metro area as the Associate Women's Minister at Scottsdale Bible Church. Tracy is also the author of A Redesigned Life: Uncovering God's Purpose When Life Doesn't Go As Planned (Revell 2019), and Images of His Beauty, a 10-week Bible study for teenage girls and young adult women that focuses on identity in Christ, overcoming and healing through Christ, and bearing the image of Christ. tracymsteel.com
Submit a devotional to Just Moved Ministry. Has God been speaking to you and guiding you through a big change? Send your devotional of 600 words or fewer to akelley@justmoved.org. Each submission will pass through our editorial staff. Include a brief bio and a picture, if you'd like!