The Woman with the Red Purse and How My Life Changed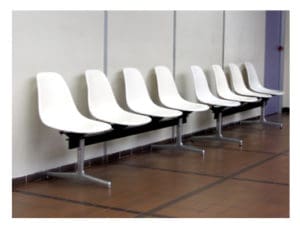 It was a visual  picture that will be forever imprinted in my mind. She was an attractive, petite woman in her mid-forties, with shoulder-length black hair, white blouse, and a dark colored pencil-thin skirt. My eyes were drawn to  her large red purse as she walked down the long corridor. It seemed almost too big in proportion to her small size. I guess I needed to focus on something other than my thoughts. As she walked closer, I could tell she was coming towards us, especially since my daughter and I were the only two people sitting in the waiting area.
There wasn't a smile on her face when she introduced herself. It was obvious the news she was going to tell us was not good. "I'm so sorry", she said. "There's nothing we can do. The cancer has spread…."
I wouldn't let the reality of her words penetrate my mind, not now. I went into a mama's protection mode as I pushed back my own feelings to be strong for my daughter.  "We'll get through this, we'll get through this", I kept saying.  Even though I didn't believe my own words, I said them anyway. After all,  this was her daddy the surgeon was talking about. My husband of 45 years, but her daddy that she adored.  What I really wanted to do was run down the long corridor screaming "no, no, no…"
This seemingly empty section of the hospital and surgical waiting room suddenly seemed very cold, and I began to shake as I often do when I am chilled to the bone. I began to feel the chill of the surgeon's words pierce my heart. "A  rare, aggressive  form of colon cancer that has spread to the liver and beyond…." 
I knew this was something I couldn't fix with words, a hug, or a kiss. I knew I needed to lean into Jesus–no, fall into Jesus, like I'd never done before.
I felt numb as I pushed away the reality of losing Bill.  I knew the only way I could physically take another step, or emotionally face the time we had left, was by breathing in Jesus and His word with every breath I took. In the days ahead when I felt weak, His strength became my strength. When my sorrow was uncontrollable, His comfort sustained me. When I was overwhelmed, His peace filled me.  He wiped away my nightly  tears of grief with a smile to face each day.
Jesus still does that today, seven years later.  
Bill lived four agonizing months after his diagnosis on a Good Friday and emergency surgery on an Easter Sunday.  I never left his side. Our love for each other seemed to permeate our hospital wing and hospice.  Bill radiated Jesus with every word he spoke to the doctors and nurses. When anyone asked him what he did, he would always say, "I am a Christ-follower."  His love and concern for me, and my love and care for him became a testimony of our devotion to each other.
I recently saw the surgeon who carried the red purse and stopped to introduce myself, knowing she couldn't possibly remember all her patients.  "Oh yes," she said, "I remember you, your husband, and your two children. You were quite an unforgettable family and your husband was a remarkable man.  He had such peace, even as he faced death.  He always managed to smile, even when he was in pain, and  there was an inner strength in him as his body weakened."
As I sat in church every Easter for the last seven years, I would vividly remember that Sunday as the beginning of a life change and loss that rocked my world – and our children's world –  to the core. But, I also remember that it is because of our risen Savior, that I will see my Bill again, face to face, in Heaven.  There will be no disease, no suffering and no pain – only the joy of being reunited together again.
Then, with tears and a smile, I sing deep from within my soul, "Because He lives, I can face tomorrow…."  
From My Heart to Yours,


"I am not skilled to understand what God has willed, what God has planned. I only know at His right hand is one who is my Savior."
(Words from an old hymn given to me by a beloved friend on August 9, 2009, the day Bill went home to be with Jesus.)