A Rocking Chair and a Prayer
I have many treasured childhood memories that continue to impact my life, even today. One in particular is my grandmother, Leila Brown, who was known by her grandchildren, nieces, nephews, and cousins, as simply, Mother Brown. She was, indeed, another mother figure to all of us and the matriarch of our family.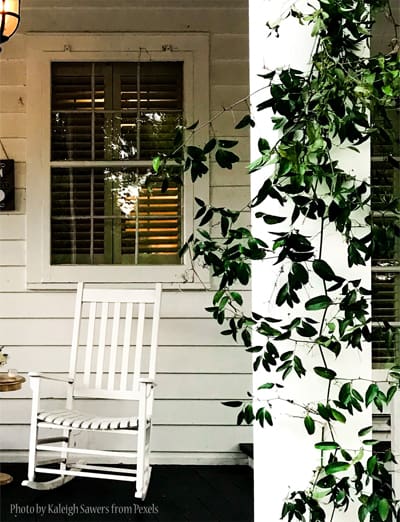 All of us loved to gather at her house during the summer, swing in the hammock and rock in the rocking chairs on the porch that wrapped around the house from the front to the back. Then we would venture in the back yard to see who could find the most pecans on the ground under the pecan trees. This was the house where my cousin and I would climb up the oak tree and swing across the driveway, hanging on to the wisteria vine that grew entwined in the strong limbs of the oak tree. I often refer to this in my teaching as a visual for how we should be entwined as one with God and He will hold us across our road of life.
I vividly remember Mother Brown's simple print cotton dresses with buttons all the way up the front, buttoned to the little round collar at her neck. She always wore stockings and the same black lace-up shoes. She seemed to wear an apron from morning to night.  I remember her mostly being in the kitchen with a kitchen towel thrown over her shoulder to easily dry dishes at the sink. This became a habit I often find myself doing without even thinking about it.
My most cherished memory of Mother Brown was in her favorite rocking chair, with her worn and tattered Bible open in her lap. She would rock back and forth as she prayed for each person in our family – especially for my daddy, who was deployed and serving in the Korean War. I watched her underline scripture with a pencil, listened to her pray out loud, and heard her praise God in all circumstances.
This. This was the beginning of forming my prayer life.
To this day, I can see and hear Mother Brown rocking and praying. A childhood memory that subconsciously left an impact and became a legacy Mother Brown left behind without ever knowing.
I don't have a rocker like she did, but when I'm deep in prayer I find myself actually rocking back and forth wherever I'm sitting. Many times I will open my Bible in my lap, underlined in pen throughout the pages, and drink in God's encouraging word like a refreshing and much needed cup of cool water.
Writing this blog has made me stop and think about how I influence those who are watching and listening to my actions and words. It doesn't matter how young or old we are, or what season or stage of life we might be in – we can influence, impact, or leave a legacy to someone.
People in our life are listening to what we say, watching what we do, and reading the pages of our life.
I certainly haven't always been a model example by my actions and words by any means. But this much I've figured out in life: I can influence others by how I live my life for Jesus and the choices I make to live out the fruit of the Spirit. (…the fruit of the Spirit is love, joy, peace, patience, kindness, goodness, faithfulness, gentleness, self-control… Galatians 5:22-23)
Mother Brown sure did, and I am blessed for her positive influence on my life and the irreplaceable memories created at her southern family home. Also, I just have a feeling I was on her prayer list for many years, and for those faithful prayers, I am eternally grateful.
pray without ceasing…"  1Thessalonians 5:17

Devote yourselves to prayer, keeping alert in it with an attitude of thanksgiving…." Colossians 4:2