---
by Lauren Locker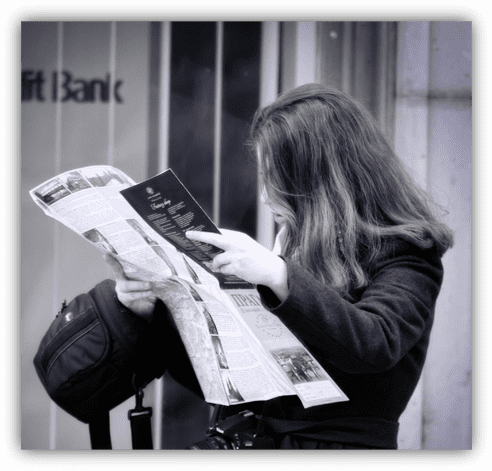 When a place feels unfamiliar, I get anxious.
I detest feeling lost, disoriented or like I don't know my way around. Before I go to a new place, whether it's Disneyland or a new city, I study a map so I will have a sense of where I am when I get there. Even then, it takes a while before I can feel how far I am from the grocery store or how long it will take to run an errand. Once I get that internal map working, I can begin to enjoy my surroundings and learn to appreciate new sights, activities, foods and friends. That's when the blessings of a new place begin to be revealed.
I had a similar thought about the Bible today. The section I am least familiar with is the era of the kings and prophets when Israel was divided into northern and southern kingdoms. Since I don't like feeling lost, it was a long time before I ventured into that part of the Bible. It's natural to avoid what feels unpleasant. But if we're brave and dive into unfamiliar territory, surprises and delights can be found! When I moved to Albuquerque, the hot air balloons and Hatch green chilies were delightful surprises. When I moved out of the New Testament into Kings and Chronicles, God's heart took my breath away.
The kingdom was divided. The people were cheating on God, worshipping other gods. The threat of judgment was hanging in the air. But running right through the middle of that mess was God's clear call back to a right relationship with Him, back to His good plan, back to His blessings. He still loved them! It wasn't too late to start over!
When I feel like I've lost my way spiritually, it can make me anxious and miserable. But instead of assuming that God is unfriendly toward me, I need to remember that He is calling me to come closer, to experience His grace, to feel at home with Him again.
Scripture
Come to me, all of you who are weary and carry heavy burdens, and I will give you rest…and you will find rest for your souls" (Matthew 11:28-29).
Question
Have I heard God's call to come close to Him today?
Prayer
"Thank you, Lord, for continuing to call me back to Yourself even when I am broken, rebellious, or lost."
Thought
When I feel disoriented spiritually, I will respond to God's call and find rest in His love and grace.