Every month we bring you the personal and encouraging story of someone who has been uprooted by a move or other life change.
---
by Lori Mumford, military spouse
Come now, you who say, 'Today or tomorrow we will go to such and such a city, and spend a year there and engage in business and make a profit.' Yet you do not know what your life will be like tomorrow. Your are just a vapor that appears for a little while and then vanishes away. Instead, you ought to say, 'If the Lord wills, we will live and also do this or that'" (James 4:13-16, NIV).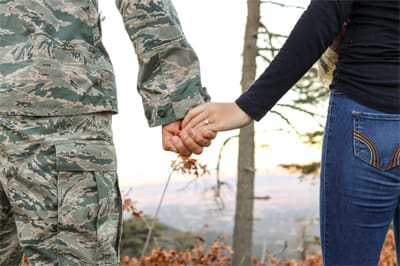 My husband and I had many conversations about the perfect place to transfer next. They'd go something like this: After this tour, we could go to that place, then transfer to this place for a few years where we could moonlight for some extra money. The last tour, we could go there where we could retire.
We poured over the possibilities to secure the future we wanted. One day, I read James 4:13-16, and I was convicted we were boasting about tomorrow. I showed the verse to my husband, and we were struck by how plain it was in the Bible and how so plainly wrong we were.
We can easily think the future is in our control if we plan right. My husband and I stressed about getting shore stations for the benefit of our young family. Not only did he get a boat, but he was gone for over half the first year. Without that experience, I never would have seen such a display of God's awesome power, grace, and work in our lives. This forced me to cry out to Him, and He met our needs.
Satan cloaks selfish desires. He convinces us that something or somewhere can make us happy, because after all, God wants us happy, right? He tempts us to believe that a selfish desire is also God's desire for us. We think we know what we want. However, our will can never fulfill us like His will.
If I panic or become angry about the next transfer, then I know I've put my trust in my own desires and plans. I must trust His plans. I'm still selfish, and sometimes I have to ask Him for the "desire" to desire His will. In Psalm 37:4, it says, "Delight yourself in the Lord and He will give you the desires of your heart." Does that mean we get what we want as a rule? No! It means trusting Him first and desiring His will over ours. He changes our selfish desires when we say, "Your will be done" (Matthew 6:10).
We still look at potential places. After much prayer, we write down our choice number one, two, three, etc., on the "dream sheet," but we realize they are only places we think are good for us. God may have better plans, even if it's hard to see initially. We're reminded that we truly have no idea what's best for us, but He does. Isaiah 48:17 (NIV) says, "This is what the Lord says, your Redeemer, the Holy One of Israel: I am the Lord your God, who teaches you what is best for you, who directs you in the way you should go." With that, I say, "Teach and direct me!"