September 2019
by Ann Kelley, Director of Communications at Just Moved Ministry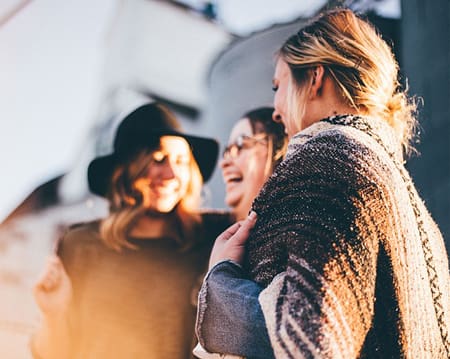 The toughest part of a move can be making new friends. When we made our hardest move – to Seattle – I'll never forget sitting in church and looking at the women around me wondering if one of them might become my best friend. Irrational? Yes, but I was so hungry for friendship.
The staff and volunteers of Just Moved have weathered many moves. That's why we are so passionate about this ministry and about helping you through the adjustment. Here are some of our best suggestions for making friends. And, yes, for many of us, we met our new best friend.
Find a church
Stop by the Women's Ministry office and ask about Bible studies, conferences, and other chances to meet women. If there's an After the Boxes Are Unpacked study, the task of making friends just got easier. If there's not an After the Boxes study, consider starting one at the church or in your neighborhood. (Check out our directory of study locations.)

Jump in to an area that you love. Is it music? Become a part of the Worship Ministry. Children? Help out in the nursery or children's program. Organizing or office work? Offer your services to the staff.

Show up!
Even if you used to run a corporation, don't wait to be recognized for your abilities; don't pass up responsibilities that are "beneath you." Say YES when asked to help out. One mom with a Master's degree volunteered as the crossing guard for her kids' school. It was a great way to meet parents, school administrators, and children.
Join a Book Club
You don't have to be a Lit. major to enjoy and contribute to a book club discussion. Check your local library or church to find out about a group to join.
Get active!
Cycling, hiking, yoga, tennis, softball, soccer, volleyball, bowling ― options abound for competitive and noncompetitive sports. You can even join a dodge ball or kick ball league! (Memories of 3rd grade recess come flooding back!)
Put your best foot forward
After unpacking boxes all day, schedule a pedicure (or manicure) to get those tootsies back in shape! There's something about a bunch of women getting their nails done that promotes conversation. Start asking questions and others will be glad to share their favorite places to shop, dine, get a great haircut, or buy the best annual plants.
Borrow an egg (whether you need it or not!)
Susan Miller recommends this and it works! Any opportunity to chat with neighbors is an opportunity to make a friend. Introduce yourself and share how you value knowing your neighbors and being part of a community. If it seems appropriate, exchange contact information. Most neighbors will be glad for the chance to meet you.
Be a good neighbor
When you see a neighbor outside, make a point to ask what time the mail carrier usually comes by. If a neighbor is working in the yard, compliment him or her on the flowers or lawn. Ask questions about what grows well and any special planting or care tips. Offer to watch a dog or bring in the mail when a neighbor goes out of town. Wait at the school bus stop with your children and chat with other moms.
Be a good friend
In order to make a good friend, you have to be a good friend. Be generous with compliments: for the point she made in the Bible study discussion, for her hair, for her singing. Make sure it's sincere and not knee-deep in syrup. Being overly complimentary smacks of insincerity. Always follow it up with a question: What do you think of this idea? Where do you get your hair done? Do you take voice lessons?
Never, never, never give up
I wish that everybody would reach out to you, but they won't. People are busy and they may not realize how hard it is to be new. Don't view the lack of invitations as rejection. In most cases, it just hasn't crossed their minds to reach out to you. You may be tempted to think that they have all the friends they need or want. The truth is that everybody wants a friend to really click with and you may be that friend. Be friendly, be thoughtful, be kind, be interested, and be cheerful, but, above all, be persistent. Making friends takes time.