By Angela Caban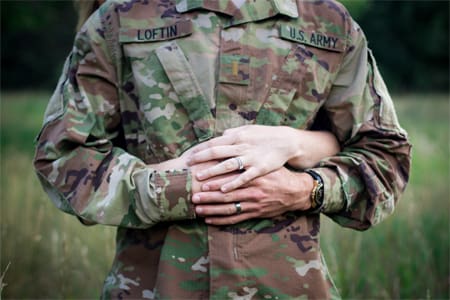 When I dropped my husband off at his unit for a fifteen-month deployment, my life changed, not just for the duration of deployment, but forever. I didn't realize then just how much these experiences would shape us for what we would experience during and after deployment. As an Army National Guard family, our life is different from what some might call traditional military life. We live in a civilian community, a three-hour drive from the nearest military installation. At first I thought it was better that way, but six months into the deployment that thought disappeared, leaving me feeling isolated and anxiously searching for others like me.
Before we were married and before he joined the National Guard, my husband, Vincent, was an active duty single soldier for eight years and lived on a military installation. After getting married and joining the guard, he had to learn a new way of living military life, with a family in a civilian community. Military life isn't only about the service member. Support for the family is an important piece of military life, but at first my husband didn't know much about that. I didn't know much about the military at all, so we both had a lot to learn about this new life.
When we were first married, I didn't think the military would play a big role in our lives. I figured one weekend a month and two weeks for training during the summer would be all we signed up for. Things changed rather quickly as temporary duty, training, and deployments made my husband much more than a weekend warrior. Now I was faced with the challenge of learning and accepting the military as part of our life – my life.
When Vincent left for that first deployment, I didn't know what it meant to be a military family. I honestly thought everything would fall into place and the support I needed would be there. Support wasn't automatically there, and I learned I had to search for it. I also found out I had to search for my own strength, but first I had to find out what it meant to be strong.
I didn't want anyone to know that I was struggling, and I put on a very good front, because that was my definition of strong.
My work friends were amazed that I had just sent my husband off to war and I wasn't falling apart. I didn't think I needed help, and neither did anyone else. I thought I was capable of managing everything on the home front. No need to tamper with my neatly arranged schedule. If I had any doubts, I hid them, even from myself. The military was not going to change me or my life. Of course, nothing ever stays the same during deployment. It couldn't when a major piece of my life – my husband – was absent.
The first week of his deployment, I was set on continuing life as usual. I thought I was being strong. Then the dishwasher broke down. It didn't only break, it fell out of the wall and flooded by entire kitchen floor. I struggled to push it back into the wall, and the situation went from bad to worse. Water flowed into the living room, where my son was splashing around in dirty dishwater. Great. It wasn't long before the tears started pouring out. I sat in the middle of the floor crying and asking God why my husband couldn't be here. I was not handling this crisis at all the way I had imagined.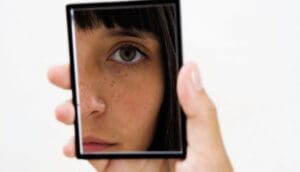 I thought I was strong, but I broke down along with the first household appliance. I didn't want to break, but I had to in order to discover real strength. I wasn't really crying about the dishwasher. I wanted my husband back. I didn't want to go through the next fifteen months alone.
Sitting in the middle of my floor, at my weakest point, I began to recognize that I could do some things on my own, but for others I would need help.
For starters, I needed professional dishwasher help. That was the beginning of my journey to real strength, not just toughing it out. When I needed help I would have to ask for it. When I needed strength, I would have to find it.
I found a support group online, through a program called Wives of Faith. These were military wives scattered all over the country who shared my military experiences and my faith. I felt validated by the support of other military wives, particularly those who also lived far from military installations. Corresponding with military spouses who were going through the same issues of isolation, sharing our struggles, fears, and personal triumphs was a welcome source of reassurance.
I needed the moral and spiritual support of others in my situation. I also needed physical support of those who lived nearby, my civilian friends and family.
I had to learn that asking for help is not weakness.
During the deployment, I had family nearby. To tap into the strength and support they had to offer, I had to admit I needed it. Being strong isn't about holding back tears, and asking for help is not weakness. Strength is daring to cry and then carry on. Strength is recognizing when I need help and not being ashamed to look for it.
Angela Caban is the wife of an Army National Guard member, a writer and speaker, and founder of Homefront United Network. Angela's military life has its twists, turns, and appliance breakdowns, and is guaranteed never to be boring. Learn more at https://www.angelacaban.com/
If you're recovering from a move, join an After the Boxes Are Unpacked study group. Just like Angela, you'll learn from and be encouraged by other women in similar circumstances.