Submit your group for a future spotlight
Every month we feature an After the Boxes are Unpacked group. These groups are offering friendship, connection, and the path to emotional well-being and spiritual growth for women who have been uprooted by a move.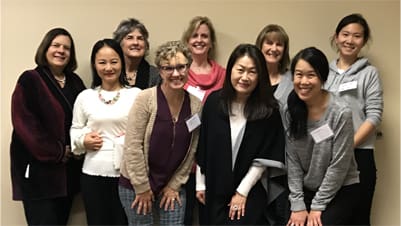 December 2017
Crossroads Bible
Bellevue, WA
Anna Clagett, Group Leader
When I moved here a year and a half ago, I looked around and saw a true melting pot. Like no community I've lived in, Seattle draws people from around the world to work in high tech industries. Many of the women who move here are not only experiencing the grief of moving across the country, but are also adjusting to a new language, foods, laws, religion, and so much more.
This fall, we launched our second Just Moved group in the Seattle Area hosted by Crossroads Bible Church in Bellevue, WA - a "majority minority" city - and our little group reflects that. God has brought us three women from China, in addition to women from around the US. But God has knit our hearts together because we all have moving in common. We are so grateful for all God has done and all He will do through our time spent together processing our change through the grid of His great love and grace toward us. - Anna
Spotlight your After the Boxes Are Unpacked group!
To spotlight your After the Boxes Are Unpacked group, please provide the following info:
1) Church, military installation or neighborhood name, city, and state 
2) Group Leader's Name 
3) A few sentences describing how God has used the study in the lives of women and/or the impact it's had on your church or community
4) web site address, if applicable
By Email: PauletteMiller@JustMoved.org
Group Photos: attach a photo to your email. We love sharing pictures that show your group enjoying each other. Be creative!
By Mail:
Please send your non-returnable photo to:
Just Moved Ministry
Attn: JoAnn Smith
8010 E. Morgan Trail, Suite 7
Scottsdale, AZ 85258 USA