Rock Point Church in Queen Creek, AZ
Kim Hembry and Alyssa Smith, Group Leaders
Susan took a little drive to meet the After the Boxes Are Unpacked group at Rock Point Church. They have 46 new women in the class! Susan was in her sweet spot getting to meet the woman, give hugs, and hear their stories. And of course, there was fabulous food to share! Thank you Alyssa for opening your home and Kim for organizing the event.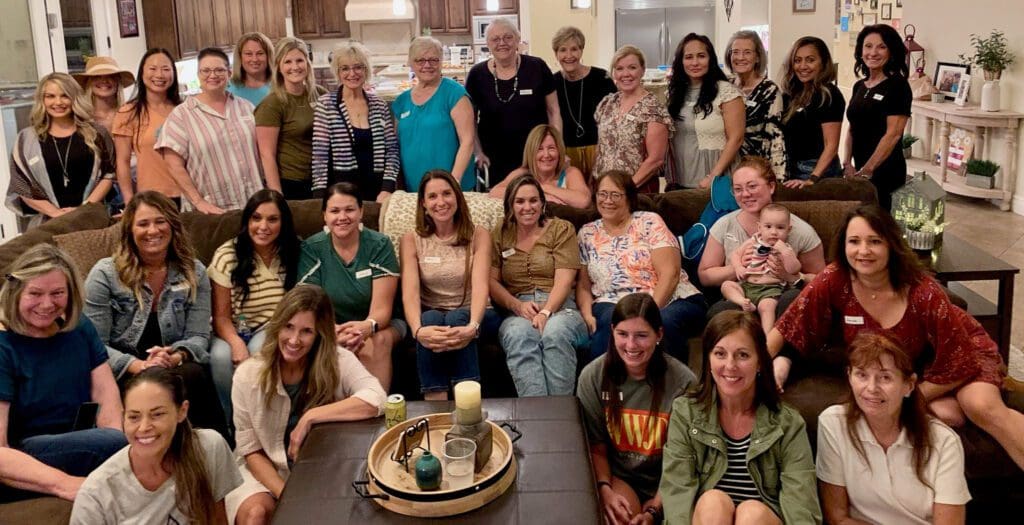 Spotlight your After the Boxes Are Unpacked group!
To spotlight your After the Boxes Are Unpacked group, please provide the following info:
1) Church, military installation or neighborhood name, city, and state 
2) Group Leader's Name 
3) A few sentences describing how God has used the study in the lives of women and/or the impact it's had on your church or community
4) web site address, if applicable
By Email: dreynolds@JustMoved.org
Group Photos: attach a photo to your email. We love sharing pictures that show your group enjoying each other. Be creative!
Follow these easy steps to take a screen shot of your online group
On a PC:
When your study group has gathered online, press the Print Screen (prt sc) key on your keyboard.
Open your favorite image editor (like Paint, GIMP, Photoshop, GIMPshop, Paintshop Pro, Irfanview, and others).
Create a new image, and press CTRL + V to paste the screenshot.
Save your image as a JPG, GIF, or PNG file.
On a Mac:
To take a screenshot, press and hold these three keys together: Shift, Command, and 3.
If you see a thumbnail in the corner of your screen, click it to edit the screenshot. Or wait for the screenshot to save to your desktop.