Every month we feature an After the Boxes are Unpacked study group. These groups are offering friendship, connection, and the path to emotional well-being and spiritual growth for women who have been uprooted by a move.
July 2020
First United Methodist Church
in Maryville, TN
Group Leader: Mary Kay Hamlin
The women from past study groups wanted to continue getting together so we met in January and today. We'll be meeting for lunch and fellowship each month. I am so blessed to know these wonderful ladies and I wouldn't have gotten to know them except for this wonderful study. We plan to start a new class in September.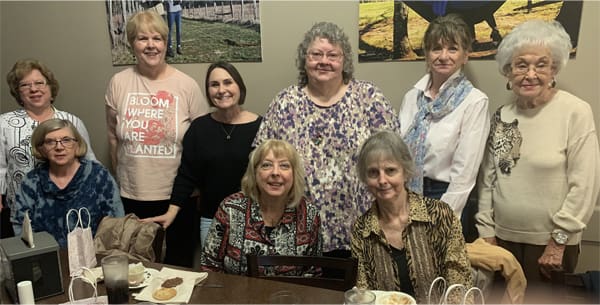 Spotlight your After the Boxes Are Unpacked group!
To spotlight your After the Boxes Are Unpacked group, please provide the following info:
1) Church, military installation or neighborhood name, city, and state 
2) Group Leader's Name 
3) A few sentences describing how God has used the study in the lives of women and/or the impact it's had on your church or community
4) web site address, if applicable
By Email: PauletteMiller@JustMoved.org
Group Photos: attach a photo to your email. We love sharing pictures that show your group enjoying each other. Be creative!
By Mail:
Please send your non-returnable photo to:
Just Moved Ministry
Attn: JoAnn Smith
8010 E. Morgan Trail, Suite 7
Scottsdale, AZ 85258 USA