Every month we feature an After the Boxes are Unpacked group. These groups are offering friendship, connection, and the path to emotional well-being and spiritual growth for women who have been uprooted by a move.
September 2018
Austin Ridge Bible – Dripping Springs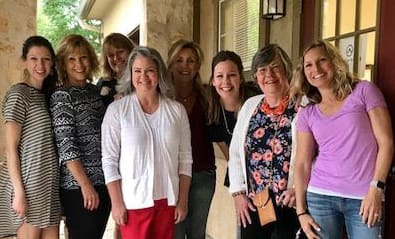 Austin, TX
Michelle Wells, Group Leader
I cannot tell you what an amazing experience it was for me to lead this After the Boxes class! And based on the feedback from the ladies, I believe they too had a wonderful experience. We had a total of 15 women who joined the group and they connected from day one. These friendships are still flourishing and include family get-togethers as well as newly formed moms groups, Bible studies, and women's social groups. This is the first time I have ever led any type of group by myself and, though I was fearful and doubted my ability to do so initially, God showed up in a HUGE way and I was blessed beyond belief! Thank you for a wonderful program which was so easy to follow and were the perfect words these ladies needed to hear each week.  I am so excited about and can't wait to meet the new ladies that God has planned for our September class!
This picture shows only half of our group.
Spotlight your After the Boxes Are Unpacked group!
To spotlight your After the Boxes Are Unpacked group, please provide the following info:
1) Church, military installation or neighborhood name, city, and state 
2) Group Leader's Name 
3) A few sentences describing how God has used the study in the lives of women and/or the impact it's had on your church or community
4) web site address, if applicable
By Email: PauletteMiller@JustMoved.org
Group Photos: attach a photo to your email. We love sharing pictures that show your group enjoying each other. Be creative!
By Mail:
Please send your non-returnable photo to:
Just Moved Ministry
Attn: JoAnn Smith
8010 E. Morgan Trail, Suite 7
Scottsdale, AZ 85258 USA