Scroll down for instructions for taking a screen shot of your virtual group
Every month we feature an After the Boxes are Unpacked study group. These groups are offering friendship, connection, and the path to emotional well-being and spiritual growth for women who have been uprooted by a move.
September 2023
Group Leaders: Bev Forrester and Kelly Cottle
Mother/daughter team, Bev Forrester and Kelly Cottle, are leading the After the Boxes Study at Eagle Christian Church. Eagle is one of the fastest growing cities in Idaho! The study is meeting an important need for connection and spiritual growth for the many who are moving into the area!
Bev wrote, "We just finished our 4th ABAU class already…. With over 30 ladies again!! So many more amazing stories from our ladies and gratitude for what your study has done for them and their families. God is good! So grateful for you and your wonderful ministry, Susan!
Thank you for featuring our groups and also for all that you do for us at Just Moved!!"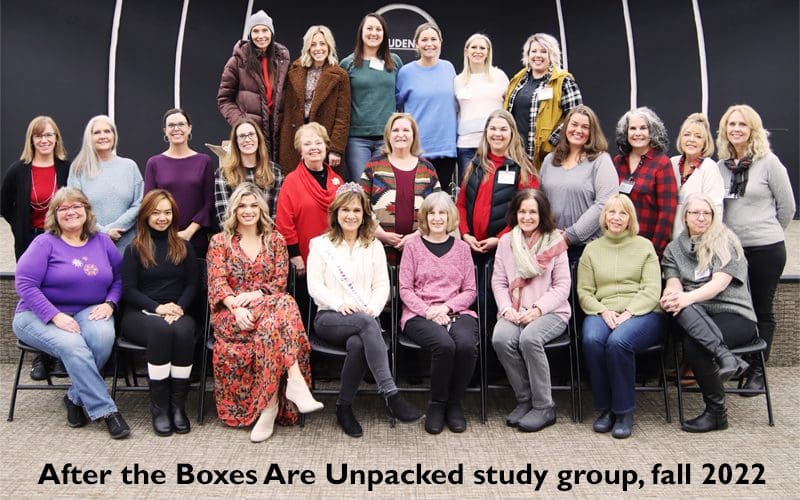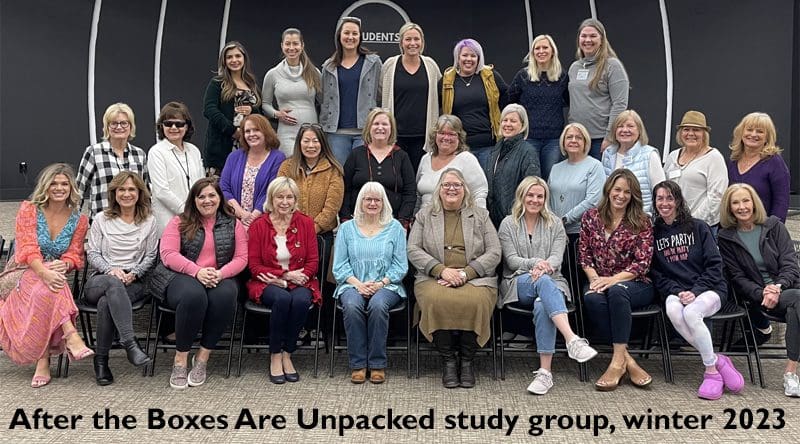 Spotlight your After the Boxes Are Unpacked group!
To spotlight your After the Boxes Are Unpacked group, please provide the following info:
1) Church, military installation or neighborhood name, city, and state 
2) Group Leader's Name 
3) A few sentences describing how God has used the study in the lives of women and/or the impact it's had on your church or community
4) web site address, if applicable
By Email: tstone@JustMoved.org
Group Photos: attach a photo to your email. We love sharing pictures that show your group enjoying each other. Be creative!
Follow these easy steps to take a screen shot of your virtual group
On a PC:
When your study group has gathered virtually, press the Print Screen (prt sc) key on your keyboard.
Open your favorite image editor (like Paint, GIMP, Photoshop, GIMPshop, Paintshop Pro, Irfanview, and others).
Create a new image, and press CTRL + V to paste the screenshot.
Save your image as a JPG, GIF, or PNG file.
On a Mac:
To take a screenshot, press and hold these three keys together: Shift, Command, and 3.
If you see a thumbnail in the corner of your screen, click it to edit the screenshot. Or wait for the screenshot to save to your desktop.