Every month we feature an After the Boxes are Unpacked group. These groups are offering friendship, connection, and the path to emotional well-being and spiritual growth for women who have been uprooted by a move.
November 2018
Prosper Community Group
Prosper, Texas
Laura Camilleri, Michelle Pruett, and Sue Schnagl - Group Leaders
"The Just Moved [After the Boxes Are Unpacked] group in Prosper, Texas welcomes ladies from the fast growing suburbs of north Dallas. Following our discussion of chapters 8 & 9 of After the Boxes are Unpacked a small group of ladies attended the Board Bar to make wood signs for their new homes.
Just Moved Prosper meets weekly to make connections, support one another, and offer fellowship through lunches, guest speakers, play dates, and date nights.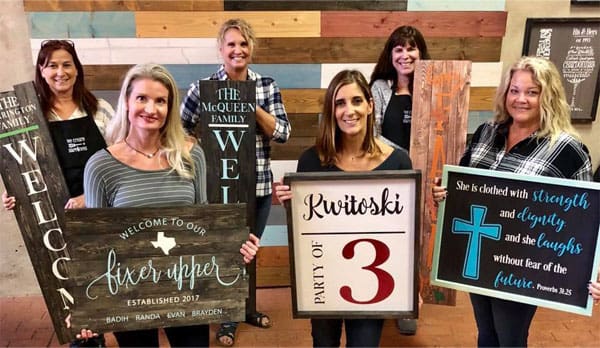 Spotlight your After the Boxes Are Unpacked group!
To spotlight your After the Boxes Are Unpacked group, please provide the following info:
1) Church, military installation or neighborhood name, city, and state 
2) Group Leader's Name 
3) A few sentences describing how God has used the study in the lives of women and/or the impact it's had on your church or community
4) web site address, if applicable
By Email: PauletteMiller@JustMoved.org
Group Photos: attach a photo to your email. We love sharing pictures that show your group enjoying each other. Be creative!
By Mail:
Please send your non-returnable photo to:
Just Moved Ministry
Attn: JoAnn Smith
8010 E. Morgan Trail, Suite 7
Scottsdale, AZ 85258 USA