Submit your group for a future spotlight
Every month we feature an After the Boxes are Unpacked group. These groups are offering friendship, connection, and the path to emotional well-being and spiritual growth for women who have been uprooted by a move.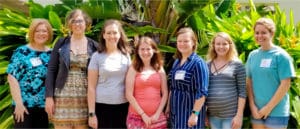 May 2018
PWOC – Schofield Barracks, Hawaii (military)
Crystal Niehoff, Group Leader
"The After the Boxes Are Unpacked study is an incredible blessing to us! As military families, we move a lot! Going through this study together shows us that we are not alone in the struggles and emotions we experience with such frequent moves and gives us the opportunity to support and encourage one another.
As Elizabeth prepares to PCS, yet again, this study reminds her to cherish a dear patient of hers and, with a grateful heart, make the most of the time she has left with her.
Amy, a new Army wife, has learned that it's understandable to grieve what she's left behind but to cherish it, rather than cling to it so that she can move forward... and it's OK to move forward.
By following the steps that Susan lays out - Let Go, Start Over, and Move Forward - we feel we can really embrace our lives as military families and enjoy each new community God plants us in for the season He has us there."
Spotlight your After the Boxes Are Unpacked group!
To spotlight your After the Boxes Are Unpacked group, please provide the following info:
1) Church, military installation or neighborhood name, city, and state 
2) Group Leader's Name 
3) A few sentences describing how God has used the study in the lives of women and/or the impact it's had on your church or community
4) web site address, if applicable
By Email: PauletteMiller@JustMoved.org
Group Photos: attach a photo to your email. We love sharing pictures that show your group enjoying each other. Be creative!
By Mail:
Please send your non-returnable photo to:
Just Moved Ministry
Attn: JoAnn Smith
8010 E. Morgan Trail, Suite 7
Scottsdale, AZ 85258 USA