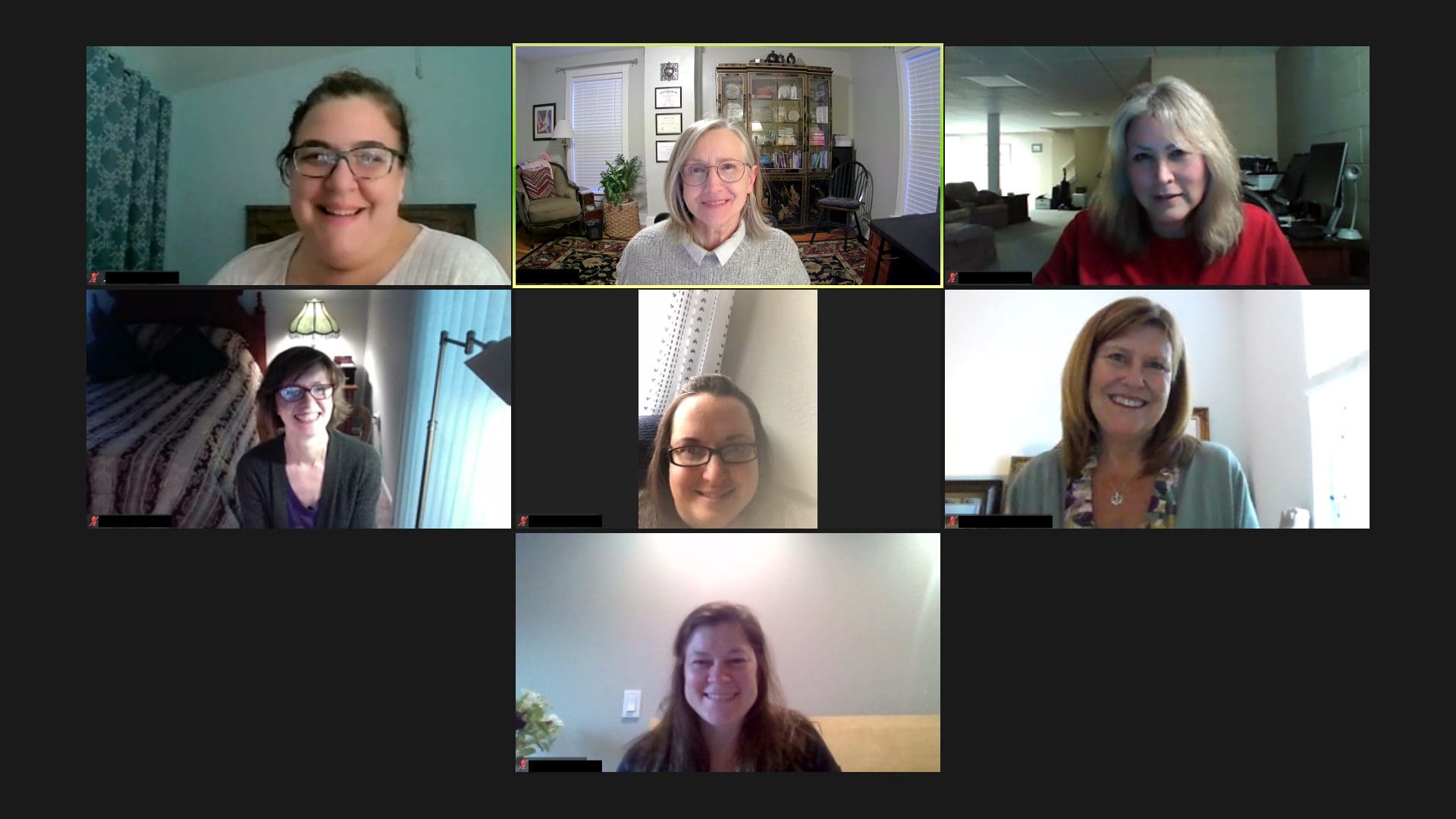 An After the Boxes Are Unpacked study group gets the conversation going about emotional realities, practical ideas, and paths to spiritual growth as you begin a new stage of life in a new town. Going through the study with others who understand what you're going through can become a lifeline.
If you have a heart for women uprooted by a move and starting over in a new place, you can have a meaningful and rewarding ministry as a facilitator of a virtual After the Boxes Are Unpacked study group. Your support team at Just Moved Ministry offers all the help, resources, and encouragement you need.
Interested in ATTENDING a virtual study group?
Interested in FACILITATING a virtual study group?

JoAnn, your Just Moved Ministry support member, would love to talk to you and answer all of your questions. 480-991-5268
If you decide to become a facilitator, your virtual study group can be formed in one of three ways:

Just Moved Ministry will connect you with a small group of women who have contacted us with a desire to participate.
You can form a study group with women you know.
A group is formed through a combination of options 1 and 2.

JoAnn will provide one-on-one phone and email support and encouragement.
Our facilitator guide shows you how to make it a meaningful and fun experience for all!
Click here to complete the brief form below to let us know of your interest. You are not committing yourself to anything. JoAnn is standing by to answer your questions and, if you choose, to get you connected with your study group members. You will also be added to the Just Moved Community. You can unsubscribe from the JMC at any time.
Read what they're saying about our virtual study groups
This group has been an anchor when I had NO church home. The weekly connection, encouragement, and conversation has helped me through 2 moves in the last 3 years. I couldn't be more grateful for the way God has used Just Moved and these women to influence my life. -Trish
My virtual Just Moved group has been a life-giving constant this past year. After finishing the book, After the Boxes are Unpacked, we decided to continue meeting to discuss other books and to encourage one another. I feel so loved and supported by these women I've never met in person!
–Marybeth in Indiana
"Thank you for your prayers [and] for the virtual After the Boxes Are Unpacked group, as we have formed beautiful and encouraging friendships and can't wait to hopefully meet in person one day." – Hope, virtual study member
"I think what surprised me the most in my first session was just how quickly the ladies clicked! I was concerned that it would feel sterile without much of a "human touch." I couldn't have been more wrong! There really weren't any awkward pauses. Everyone was very eager to read the text and begin friendships with one another. We weren't talking over each other, everyone seemed comfortable, and everyone seemed to gain encouragement. I absolutely had the best group anyone can imagine. We all cried during our last session. I think the friendships were really timely in their lives and provided a lot of encouragement. Kudos to Just Moved leadership for keeping the groups small. We are starting a prayer rotation so they can build relationships between meetings." Traci, Facilitator 
"We had our last virtual class with Traci today. Traci started tearing up and then I did too. She was able to pull herself together, but I struggled. So glad I did not have to talk at the end. Thank you for orchestrating all those details so we could meet. [I'm] working towards being able to go to France next year to the French Open and meeting Amy, [our study group member who lives in France]. Thanks so much!" Heather, virtual study member
"[Our virtual study] was very comfortable, they were chatting between themselves when I left the zoom but I left it opened for them. They were setting up a time to talk the next day. It was very warm and interactive. I am sad as I only have 2 weeks left with these ladies and it has been awesome! We have bonded so well. We have decided to meet every other week and just chat for a few minutes after the class is over." Vicky, Facilitator