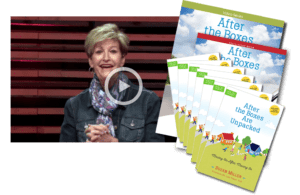 Just Moved Ministry, through our ministry Operation Hope for the uprooted military family, will donate a complete After the Boxes Are Unpacked study to any military chapel that will supply a facilitator. The Operation Hope kit includes the 3-disc, 12-session Video Series, a Facilitator Guide, and 7 copies of Susan Miller's book, After the Boxes are Unpacked.
Our cost for each donated kit is $350. All donations are welcome and when you donate $350 or more, you become a sponsor for a military chapel and will be offered specific ways to pray for the women and families there.
"I had just told my husband that I was leaving him and moving back home—it was just too hard. The next morning I heard about your [study]. I decided to check it out. Thanks to this [study], both my marriage and I will survive this move."
~ military newcomer to WA