I know the time was right, but that doesn't make it any easier. It's never easy to let go of something that has become a part of your life and your memories for thirteen years.
When the "For Sale" sign went up in June, it became a reality that this would be the last summer at our little getaway place near Flagstaff, Arizona ― only an hour and a half from Phoenix. I knew selling would become inevitable as the years went by. The grandchildren were growing older, the small rooms that once were adequate seemed to be getting smaller, college was looming in the future, and their interests had broadened beyond our small community there.
When the "sold" sign went up soon after that, I walked from room to room, my eyes covering every inch of space within each room's four walls, as my mind recalled the memories held there.
Our Happy Place
I could smell the cookies and brownies in the kitchen as they baked in the oven, with only the aroma left behind as they quickly disappeared off the platter. I could see all the smiling faces when they sat around the kitchen bar, knowing I had their full attention as they gathered to eat anything that wasn't nailed down. It wasn't about the food for me, it was the priceless interaction of conversation that I loved. I looked beyond the kitchen to the living area and saw every seat filled with six grandchildren, then spilling over on the floor with their friends. They always got such a kick out of me being able to flip a bottle of water right side up on the counter, teaching me to dance to their music, and singing popular songs along with them.
I could hear the laughter and giggles in the loft filled with bunk beds and sleeping bags long after "lights out!" echoed up the stairs. The empty stairs were once filled with flip-flops and sports shoes in hopes someone would claim them.  As I walked by the bathroom, I could hear the knocks on the door with a loud voice, "Hurry up, you're taking too long, it's my turn!"
Walking out on the deck, I took a deep breath of the cool, fresh air and smiled as I remembered the summer the deck became "Nana's Nail Salon" for my granddaughters and their friends. "By appointment only," I said. They waited patiently as I painted nails and toes of each girl. I could hear my grandsons and their friends playing board games on our deck, and soccer, dodge ball, and kickball in our large neighbor-shared backyard, where the balls always seemed to end up on our deck.
I sat down for a moment, and stared at the beauty of the flowers I planted each year. I gazed at the blue sky and green grass ― a different landscape from Phoenix in the summer.
I thought back over the thirteen years of memories, first with Bill, who loved coming here before he died. It was our place to rest, renew, and regroup. I called it our "Happy Place." It was where I grieved in the solitude of long walks and where God soothed my broken heart as He began to put the pieces of my life back together again.
Then there is the legacy of memories for our grandchildren, who spent every summer there for thirteen years, and will, I'm sure, share crazy stories about "Cousin Camp" around the table when they are grown. Priceless memories were shared together with our beloved and long-time friends from Phoenix, who said many years ago, "There's a place next door to us going up for sale, you might be interested…."  There were also other dear friends close by from Phoenix, and neighbors I looked forward to seeing each summer who became a part of our little community of friends.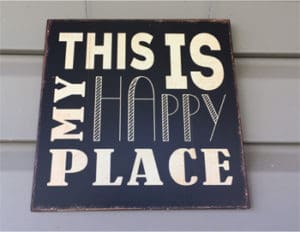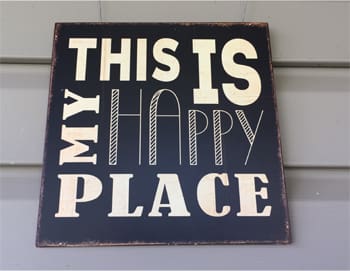 Our "Happy Place" was perfect for our Just Moved Ministry Staff and Board Retreats, where the most faithful, committed, and amazing women gathered for R&R, and to cast a vision, to plan, and to prepare for the year ahead. Not to mention, the great food, fun, laughter, and fellowship we shared! And, sometimes I would invite a friend for a weekend who simply needed encouragement and a little TLC.
A New Season
As I drove away this summer, I took one last glance at our "Happy Place" and my red geraniums left on the steps for the new owners. I was reminded of Ecclesiastes 3:1, There is a time for everything, a season for every activity under the heaven. This is a new season in my life now and I choose to embrace it wholeheartedly.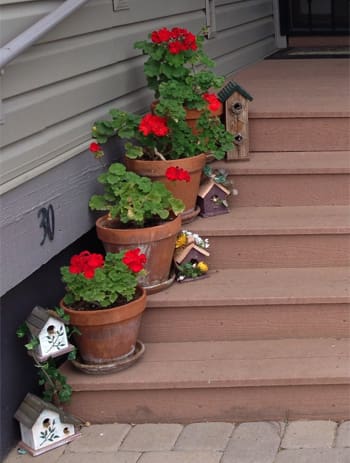 You can do the same thing if you have had to let go of a place you loved. It's not always easy when the place you left behind is intricately woven in your life, your heart, and your memories.  Perhaps you've experienced a move, or a military PCS. It could be downsizing, retirement, or other circumstances that have uprooted you beyond your control.
Cherish, Don't Cling, to the Memories
Anytime during a hard or lonely day, you and I are blessed to have a storehouse of memories that reflect the place we loved and the special times spent with family and friends. Cherish your memories, don't cling to them. Don't let living in the past keep you from all God has planned for you in the future. We can acknowledge that moving is not the end, but the beginning of making new memories and new friends. We can choose to embrace a new place and all the opportunities to see God's goodness and faithfulness.
Remember, God wastes nothing, not even having to move and leave behind what you hold most dear. This is a new season in your life too. Join me, and choose to embrace it today.
From my heart,