When You Want to Run Away From Everything and Join the Circus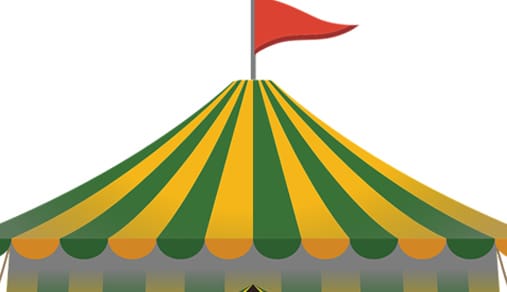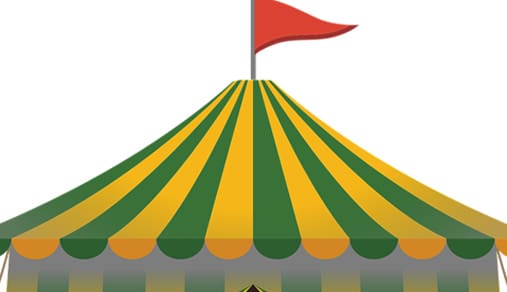 A young mom in my life who has five children, including a toddler and a baby, sent me a text recently. It's worth sharing since we can all resonate with the feelings behind her words and have probably felt like doing the same thing at one time or another.
She texted, "Today is the kind of day I'd like to run away and join the circus…. I'm going to the mall instead. I'm fighting discouragement and internal struggles.
My response as I entered her fantasy world, "Diversion was sometimes my sanity too, until I realized the circus, with all its attractions, didn't attract me like my family did. So let's imagine we are swinging on the trapeze for a while, then let's regroup by facing the giant elephants in our lives. We can do it, you hold my hand and I'll hold yours."
Then, silence, until I hear a text beep again…
My friend again: "Spent an hour alone. It was so good to get away, not run away, for some quiet time by myself. By the time my husband came home I was done with the circus…and ready to face my real life again."
My response: "Sounds like you played all alone on the trapeze for a little while, looked at life from a different perspective, and decided the circus wasn't for you after all."
I loved my friend's visual word picture.
When my children were little, there were times when I felt like I couldn't wipe one more fanny, runny nose, or spilled milk off the counter! Oh, how many times I wondered what it would be like just to go to the bathroom without interruption. Running away and joining the circus would have looked pretty good to me. Now I look back on those days and realize how quickly my children grew up and how much I miss that crazy, but wonderful, all-consuming season of my life.
Then as I get older, and the seasons of life get harder, there are still times I could easily fantasize what it would be like to run away from emotional pain, death of loved ones, grief over loss, circumstances beyond control … and the list goes on. You know what I mean. You get it. You've gone through your own hard and painful seasons of life when you've probably wanted to run away from it all. Even if it wasn't to join the circus….
And yet, this much I know …
Running away might bring instant gratification with something new and different, but the thrill of it all fades fast.
Running away might mask the pain, until, when you least expect it, the mask slips off.Â
Running away might be a temporary escape from permanent circumstances, but reality is just around the corner.
Running away might relieve a heavy heart for a little while, but won't take away the heartache you feel. Â
I know, because I've been there, tried that.
I was running in the wrong direction.
Take it from me, instead of running away from everything, try running to Jesus.
Run to be with Him. Sit awhile, be still, quietly reflect on His grace and mercy in your life.
Run to Him in prayer. Talk to Him about your hurts, disappointments, and struggles. Then pray for His peace, wisdom, and guidance.
Run to Him with gratitude. Recall His blessings – count them one by one.
Run to His word in scripture. I run fast to the book of Psalms for comfort.
Run to call out to Him. Hey, you can even yell and scream. He's big enough to handle it. Jesus not only loves you, He knows you inside and out. He even knows when you want to run away!
Run to lay your burdens at His feet. Picture yourself laying them down and then picture yourself standing up. If you truly let them go, the heavy load will become lighter, because He will bear your burdens.
Run to remember. Remember His faithfulness to you, His provision for you, His presence that will never leave you.
I have learned that "joining the circus†doesn't fill my heart like Jesus does.
From My Heart,