A few of my favorite things and the memories they hold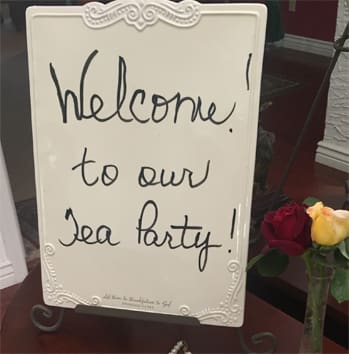 It was pure joy to host a "Tea Party" recently for a dear friend and her guests. The food was prepared by a lovely English friend (thank goodness for that!), so I could focus on what I love best―getting the table ready with all the details and little things I love to do. I plan ahead, make a list, and do all the preparation ahead of time. Then I can focus on the people, not the preparation, when the party starts.
Let me stop right here to say that usually I am more casual than formal when I have a party. The most important thing is for everyone to feel special, welcomed, and loved―whether I use paper plates or china, red solo cups or crystal, plastic utensils or sterling silver, paper or linen napkins.
But then there are times when I love to go all out and use the lovely things passed down to me from my mama and grandmother, especially for a tea party. Let's just say it's part of my southern heritage and the legacy of tradition in the south.
I had not taken out many of the things I wanted to use for this party in a long time. You might think I'm a little silly, but I was pleasantly surprised at how it soothed my soul to recount the cherished memories of the people who gave me each thing as I washed, polished or ironed it. It was a step back in time. A ritual that slowed down my usual fast-pace day. What would normally be considered a task, became very enjoyable as I let my mind wander back to family and friends from years past.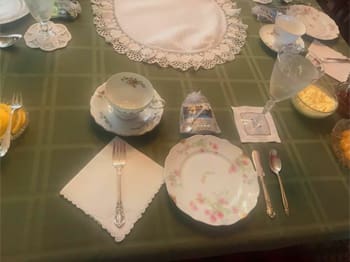 I remember my mama giving me the few pieces of china she had gotten when she and daddy married. Back in the 40's, giving a gift of fine china was hard for those who farmed crops in the small country towns of South Carolina.  She would tell me to use it often and enjoy it. "Don't let it sit on the shelf, Susan," she would say. Thanks for the reminder, mama. I need to be better at that.
I remember when my grandmother passed on some of her crystal goblets, linen napkins, and doilies. Some had a few stains that couldn't be gotten out with just soap back then. I call them "story stains." I smile when I recall the stories told around the dining room table as food was spilled―and wiped up―with a napkin.
When I was eight years old, I carved my initials in my grandmother's sterling candle holder that always sat on a small table in her living room. Guess who got the candle holder years later! Now it proudly sits on a small table in my living room.
Coming from a large family on both mama and daddy's side, I was blessed with two grandmothers and lots of aunts who gave all the grandchildren and cousins some reminder of them for our home. I cherish each thing that helps me set a pretty table today.
I remember dear friends over the years who gave me a teacup for a special occasion to add to my collection. Each one holds a special memory of their friendship as we shared laughter and tears together over a cup of tea or coffee.
And, I tenderly remember when Bill had just gotten out of the Air Force and was going to college on the GI Bill. We didn't have two nickels to rub together in those early years of marriage. We both had part-time jobs and I was pregnant. He came to me in great anguish as he asked me to consider selling the few sterling silver place settings we had gotten at our wedding to help pay hospital expenses for the birth of our baby. Of course I said yes. You do what you have to do when times are hard. He promised that some day he would replace every piece and, years later, he did just that. I now have enough place settings for my family around the table.
Now let me put all this in perspective. You see, all these lovely things, are just that―things. They mean nothing without the love behind them. Some of you may have nothing passed on to you but the memories of a fractured, painful past with a disconnected family.
This is what you need to remember: It is never too late to start making memories and to start traditions now, for your children and for your grandchildren.
You don't need "things" to pass on. Give them yourself, your love, and live out Jesus in your home.  
That, my friend, is the greatest heritage, the greatest thing you can pass on to your family that will affect generations to come.
"Lord, you alone are my inheritance, my cup of blessing…." Psalm 16:5 NLT
Jesus expressed great hospitality even though He never owned a home.
He never possessed a set of china and never wrote a book on etiquette.
Without beverage, Jesus refreshes us,
Without a table, He has banqueted us.
Jesus embraces us when we are filthy, oppressed and undeserving.
Jesus welcomes us graciously by saying…
Come unto me…You are welcome here.
(author unknown)