I recently spent a weekend with a friend at her farm to enjoy cool weather, a change of scenery, and some down time before my busy fall schedule began.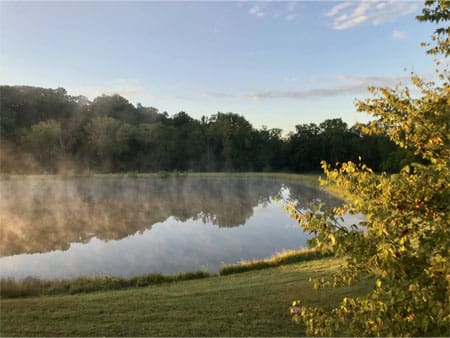 Her home was only accessible by miles of dirt road and was completely surrounded by acres of beautiful green farm land. An occasional creek would wind through the spacious land and ripple over all sizes and shapes of rocks. A quiet, still lake, as smooth as glass, was in full view from the back porch. Only an occasional fish jumping from the water broke the stillness of the water.
My friend took the opportunity to spend a morning with her family in a nearby small town, so I had this magical place of solitude all to myself. I gathered my pen and paper, a few devotional books, and nestled in on the inviting porch swing. My eyes were held captive as movement across the lake and near the woods revealed a fawn with a mama deer not far behind. For the next few hours I was isolated from the rest of the world.
I actually found myself uncomfortable with this new-found silence.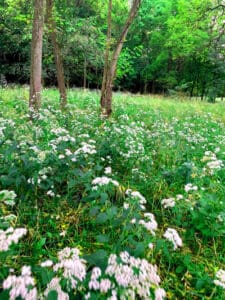 I kept getting up to go back in the house to get another cup of coffee, then to refill a glass of water. I walked around the porch that extended from one end of the house to the other, to look for any movement or signs of life in the vast landscape around me. A squirrel scampered by on the porch, as shocked to see me as I was to see him. I went for a long walk, crossed a creek, and soaked in the silence. A startled deer quickly ran across my path as our eyes briefly met.
Unlike back home, there was no sound of cars, no UPS or Amazon truck to stop at my door, no neighbors passing by as they chat and walked their dogs. No sound of sirens or traffic in the distance. No internet, no wifi, no TV, no ping of incoming texts or messages. Nothing but the whisper of wind in the trees, a bird chirping to his own tune, and a chorus of crickets in harmony.
Slowly I became comfortable with myself and with the quiet of my surroundings.
I headed back to the house and the porch – my newly discovered place of refuge and peace.
I returned to the porch swing and gently swayed back and forth for hours without feeling restless. I began to think through things, not just about them. I began to breathe deeper, relax, and drink in the quiet that filled my soul. I could hear myself think and pray without interruption or distraction. The words of scripture in my devotional penetrated my heart with clarity and new meaning. I had found a renewed and refreshed sense of myself.
The weekend slipped by much too quickly. Before I knew it, I was back in Phoenix. Life resumed its normal rhythm and the noise of my world didn't miss a beat. On especially busy days, when my world is spinning non-stop, I close my eyes for a minute and remember that gift of solitude and silence. I breathe in the memory as if I was there and, for a moment, my world stops spinning. Within that moment, I find comfort in silence once again.
The Lord is my shepherd, I lack nothing.

He makes me lie down in green pastures,

He leads me beside quiet waters,

He refreshes my soul.

He guides me along the right paths

for His name's sake.

Psalm 23:1-3
My friends, wherever you live, whatever your surroundings may be, make the time and take the time to find silent moments in your world.
Perhaps it's in the solitude of early morning or in the quiet of late night. It could be as simple as taking a long walk or going to a nearby park. It can be as easy as not turning on the TV, Spotify, the computer, or your phone. Let the only sound of distraction be the coffee maker dripping in your cup.
Be still and know that I am God.
Psalm 46:10
…in quietness and trust is your strength…
Isaiah 30:15
From My Heart to Yours